PHOTOS
'RHOC' Star Gretchen Rossi Celebrates Daughter Skylar Gray's Big Milestone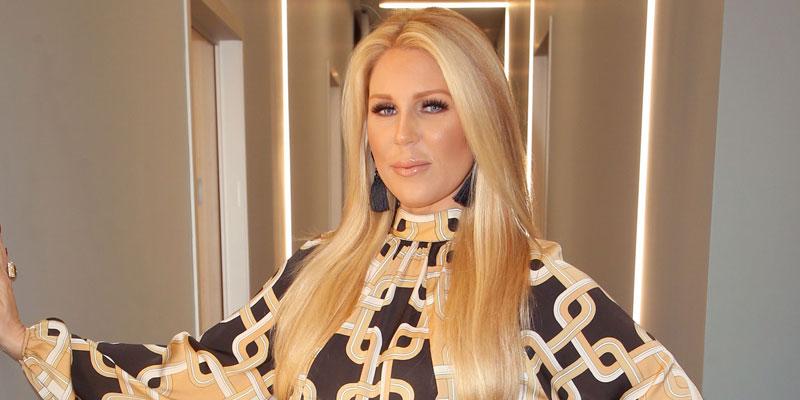 Real Housewives of Orange County star Gretchen Rossi is one proud mother! She celebrated a big milestone in her daughter, Skylar Gray's life on October 15.
Article continues below advertisement
Gretchen, 40, commemorated Skylar turning three months old on Tuesday. She shared a slew of adorable photos of her baby girl dressed in a black and orange Halloween-themed onesie alongside a golden nameplate that had the word "three" etched on.
"Our little pumpkin is 3 months already! Can you guys believe it? ?. Her little personality is really coming out! She loves to laugh like her Mommy, & she loves it when Daddy is silly! She LOVES music and she is loving getting to know her fur baby brothers more & playing with them on the floor. She is so alert, so strong, and I swear is already saying 'Hi' & 'ya' ?. We are loving every second with her and she literally brings so much joy to our hearts every single day. ❤️ #GodisGood #baby #IVF #3months," the Bravo celebrity wrote as her caption.
Article continues below advertisement
Gretchen welcomed her first child with fiancé Slade Smiley on July 10. She gave birth via C-section and Skylar weighed 7lbs 1oz and measured 20 inches long. The RHOC alum underwent several rounds of IVF before getting pregnant.
The mother of one revealed last month that she struggled with postpartum depression soon after giving birth. She candidly opened up about her issues on an episode of The Doctors. "I make a joke that I'm gonna write a book called It's All a Lie. Legitimately, I had no idea what I was in for. I just thought, 'This is gonna be great,'" Gretchen said on the show. "You see Instagram, you see social media, you see the media making it look like it's so perfect, and you just sit there and breastfeed your child and you look magically into their eyes. It was nothing like that."
Article continues below advertisement
She confessed that she "went through a difficult period." She said, "I realize now, I was depressed, and I had a lot of anxiety." She made an appointment with her doctor to figure out what was really going on.
Gretchen continued to explain on the medical series that she "really wasn't connecting with Skylar at the very beginning. "Then I came to realize when I went to my pediatrician's appointment and I was crying and broke down in that appointment, and my pediatrician said, 'You know, Gretchen, I think maybe you need to think about the fact that you might have some serious postpartum,'" she said.
Article continues below advertisement
What are your thoughts on Gretchen's post? Sound off in the comments below!