PHOTOS
Jim Edmonds Hosts Boys Night Amid Cheating Scandal & Divorce From Meghan King Edmonds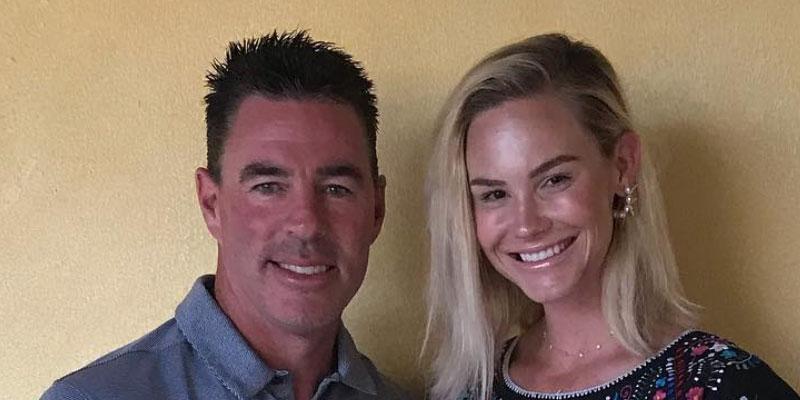 Jim Edmonds is trying to have some fun amid his marriage troubles with Meghan King Edmonds. The Real Housewives of Orange County star's estranged husband hosted a boys night at his new mansion in St. Louis.
Article continues below advertisement
Jim, 49, moved out of the couple's home after rumors swirled that he cheated on Meghan, 35, with their children's nanny. Jim filed for divorce on October 25, just a day after the two's fifth wedding anniversary.
On November 25, the former baseball player took to his Instagram Stories to show off his luxurious mansion. In one clip, his eldest son, Landon, and his friend had a "Boys Night In" at Jim's indoor bowling alley. The trio had some fun rolling balls and knocking down pins. The house also came equipped with a ginormous playroom for his younger kids, daughter Aspen and twins Hart and Hayes. The mansion also featured an indoor batting cage and a basketball court.
Article continues below advertisement
On October 28, Jim spoke out against the allegations and gave his side of the story. "It's one thing to be accused of something. It's another thing to be so negligent and so careless, and ruin the lives of innocent young people," he wrote on Instagram. "I did not sleep with our nanny. She's not just a nanny, she is someone that we brought into our house and promised to protect and look after while she was in our home."
Article continues below advertisement
Jim vowed to make his marriage work and he tried to make amends for his behavior. Jim told Us Weekly, "I have way too much love for my wife and kids for this to happen and it's time for us to get back to the private life we used to live, He added, "Meghan is a truly special woman who my kids are so fortunate to have as their mother … I love my family and will make it right again."
Meghan gave her first interview since the scandal earlier this month. "I had not exchanged one text message with him and I have still not spoken to him on the phone. I have endured prolific controlling by Jim and it isn't slowing down. Even when I make an unassuming post on Instagram, he hurls insults at me for a battery of made-up indiscretions. I'm sick of the abuse and I won't engage anymore — and I don't have to," Meghan told Us Weekly on November 4.
What are your thoughts on Jim's boys night? Sound off in the comments below!