PHOTOS
Joe Giudice Grinds On A Thong-Clad Woman Just A Month After Split From Teresa Giudice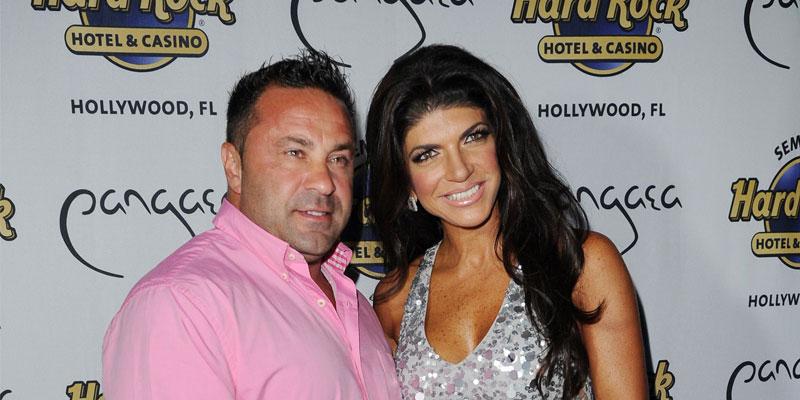 Joe Giudice didn't look so heartbroken over his recent split from estranged wife Teresa Giudice on January 25 when he was spotted partying with bikini-clad women in Mexico. According to reports, the Real Housewives of New Jersey star was seen grinding on another woman.
Article continues below advertisement
Joe, 47, danced poolside with three scantily-clad women dressed in thong bikinis at a resort in Isla Mujeres. At one point, Joe drank a can of beer while a blonde woman slung her shoulders around him. The father of four wore black board shorts and dark sunglasses.
The Bravo star also laid next to one of the women in their bungalow and he had his arms all over her legs. That same day, he posted two videos on Instagram of himself fishing in the open sea while chilling on a boat.
Article continues below advertisement
Joe and Teresa, 47, announced their plans to split in December 2019 after two decades of marriage. A source told People at the time that the former couple "have been separated." "They discussed their future when Teresa and the girls went to Italy in early November and they agreed that each had to move on. They are doing so amicably and very slowly," a source told the publication. "Joe has been out on a few dates, Teresa has not. She has been too busy with the girls, with work obligations and taking care of her father. She is happy for Joe."
The insider added "there are no plans for divorce" at this time and they are both "focused" on raising their four daughters — Gia, 18, Gabriella, 15, Milania, 14, and Audriana, 10.
Article continues below advertisement
On the January 22 episode of the Real Housewives of New Jersey after show special, the Standing Strong author admitted that a week before she and Joe were to tie the knot 20 years ago, she wanted to cancel her wedding. "I wanted to call off my wedding, but then my mom's like, 'No, you can't do that,'" Teresa recalled "It was a week before!"
Joe requested that she sign a prenuptial agreement before the wedding. However, the cookbook author wasn't having it. "His cousin called off a wedding 'cause the guy made her sign a prenup," Teresa said. "I just was hurt over it. He wasn't a prenup kind of guy. Like, if he had family money, then I could see him making me sign a prenup. … I would have no problem. I'd sign on the dotted line!"
"I was never the type of woman who ever asked a guy for anything. If I wanted something, I bought it myself. I was never that type of girl. You know how girls look for sugar daddies? I was never that person," she added.
What are your thoughts on Joe partying in Mexico? Sound off in the comments below!