PHOTOS
Celebs Rally Around Selma Blair After She Admits To Being 'Alone And Vulnerable And Scared' Amid Multiple Sclerosis Battle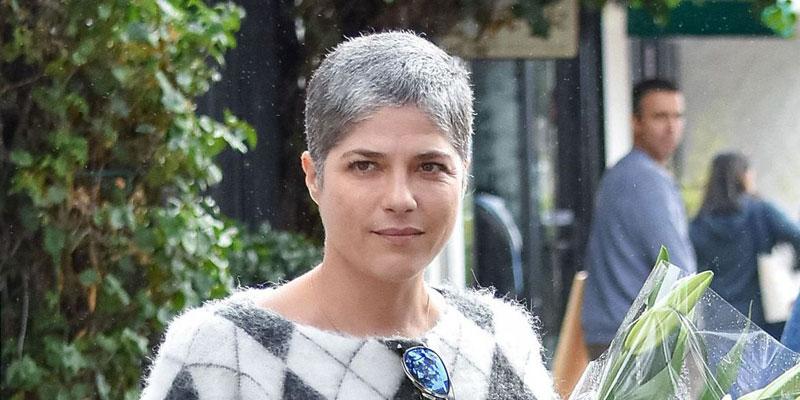 Selma Blair took to Instagram on Tuesday, February 11 to share her thoughts and fears with fans amid her battle with multiple sclerosis. The actress admitted to "feeling alone and vulnerable and scared about the future as a single mom" to son Arthur in her candid post, and her celeb pals were quick to rally around her and offer her their support.
Article continues below advertisement
"This is the thing. I feel sick. This is what happens. There is no bright light of glamour. Of course. It is long nights. Almost all nights. My muscles in my face and neck are in spasm. Or so tight I can't even find a way to stretch. And I have been trying for three hours. On the ground stretching. I have had the stomach flu. Thanks Arthur! And I am even more sideways now. For now. But I am not killed by it," Selma, 47, wrote.
She continued, "I am strong enough not to be taken down any more than the average bear. That's great news. Excellent reassurance. I recover. I stepped wrong last week. In the street. I don't remember it happening. Or the pain. I was told. And my ankle is sprained and it makes me feel even more fragile. A simple ankle sprain. And I am lucky on a million counts. I know. And I am still feeling alone and vulnerable and scared about the future as a single mom. I'm not dying any more than anyone. I am just hurting. It feels like I am just breaking down."
Article continues below advertisement
The Cruel Intentions star closed out her message by sending love to anyone that is also struggling with their health. "So there's a truth to give to anyone else feeling this way. It's just miserable. And scary. To feel unwell. I am so sorry. This is just me to you. In the early hours of the morning. Cause I don't know what else to do and I want so much to do better. May the silver lining surround us all. And guide us out of the darkest. Thank you all for being the biggest loves. I am in a slow time. I need to recover. I want to recover. And I don't know what that even really means. I send you all a reassuring warmth. We all need it," she concluded.
"I love you Sel, thinking of you all the time," Bella Hadid wrote in the comments section of the post. "Sending you so much love," Penelope Cruz added. "Wish we could alleviate your pain with positive thoughts and all the love and admiration we feel for you. You are such a brave woman and you inspire us all with your grit & grace," model Christy Turlington expressed.
Article continues below advertisement
"I struggled to reach a diagnosis. I struggled with MS attacks. But through it all I knew I had to keep pushing forward. It is this personal connection to MS that inspires me to advocate for and bring awareness to the MS community. I am sharing my experience with MS attacks and an attack treatment option that worked for me when I needed it. And although I have come a long way in my treatment journey, my hope is that others can learn from my story, speak up and advocate for themselves," she shared on Instagram in September 2019.
Selma and fashion designer ex Jason Bleick amicably co-parent son Arthur, 8. They began dating in 2010 and split in September 2012. Prior to their relationship, Selma was married to Ahmet Zappa from 2004 to 2006. She was most recently linked to producer David Lyons.