PHOTOS
Teen Mom 2 Ten Seasons Later: Babies, Breakups and Blowouts, The Cast Then and Now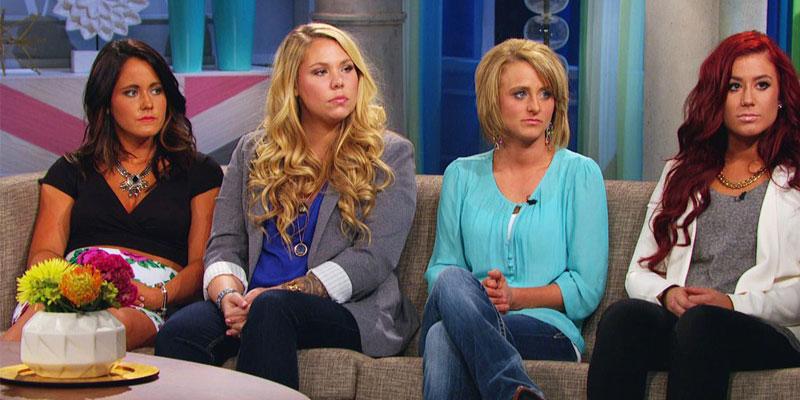 Teen Mom 2 is a spinoff of the hit MTV reality show Teen Mom that premiered January, 11, 2001.
The original cast consisted of Chelsea DeBoer, Kailyn Lowry, Leah Messer, and Jenelle Evans. With Briana DeJesus and Jade Cline joining the show subsequently.
We've watched the young moms battle boyfriends, the law, each other, and Barbara!
With the explosive season 10 trailer for Teen Mom 2 recently dropping. We're taking a look back at where the moms started and where they are now!
Article continues below advertisement
Teen Mom 2 season 10 premieres September 1, on MTV.
Chelsea DeBoer
When we first met Chelsea she was giving birth to her daughter, Aubree, now 10, and struggling to make her relationship with estranged boyfriend Adam Lind succeed.
During the sixth season, Chelsea was in a bitter custody battle over Aubree, with Lind wanting joint custody, while Chelsea wanted to keep arrangements the way they were. The judge ultimately sided in favor of the mom.
It was in late 2014 when Chelsea's world turned around. She introduced us all to Cole DeBoer and we instantly fell in love with the soft-spoken hottie.
It was love at first sight when the two met at a gas station in South Dakota. After tying the knot in October 2016, Chelsea and Cole started a family of their own.
The aesthetician gave birth to their son Watson Cole, in 2017. Less than two years later, they became a family of five when Chelsea gave birth to their daughter Layne Ettie on her 27th birthday.
In an adorable Instagram post, Chelsea announced on August 5, that she is pregnant with her fourth child, her and Cole's third together.
"One more DeBoer! Coming early 2021," the 28-year-old MTV star wrote on Instagram.
Article continues below advertisement
Kailyn Lowry
Forever the hopeless romantic! Kailyn Lowry has experienced her fair share of relationships since the show began in 2011.
When we first met Kailyn, the Hustle and Heart author was linked to Jo Rivera. The two were expecting their first child Isaac, now 10, on an episode of the show that started it all, 16 and Pregnant.
Jo and Kailyn didn't last, but that didn't stop her former boyfriend from causing chaos in her life. Kailyn briefly dated Jordan Wenner when it all came crashing down after Kailyn cheated on Jordan with Jo.
It was in 2011, that Kailyn's life changed dramatically. While working at a retail store in her local mall she met Javi Marroquin. Javi popped the question following nine months of dating. After getting married at a courthouse, Javi left for Air Force Training days later.
In 2013, Kailyn and Javi had a celebratory wedding in front of family and friends. Kailyn was 7 months pregnant with their first child, Lincoln, now 6. Things turned sour for the couple and after three years of marriage, the two decided to go their separate ways in 2016.
Quickly moving on Kailyn linked up with Chris Lopez. The on-and-off-again couple welcomed their first son Lux, now 3, in 2017.
During one of their many breakups, Kailyn had a quick relationship with Dominique Potter before realizing the two friends weren't meant to be.
After her split from Potter, Kailyn and Chris continued to date. Kailyn welcomed her fourth son, lovingly named Creed, on July 30.
Leah Messer
Leah Messer's love life is filled with more twists and turns than a rollercoaster.
Leah is the mother of three daughters: twins Aliannah and Aleeah, 10, with her ex Corey Simms, and 7-year-old Adalynn with ex Jeremy Calvert.
The MTV star's troubles with being a young mom and relationship woes have been documented on camera since 2010.
Leah was still reeling from her breakup with Corey (father of her twins) when she found out she was pregnant with Calvert's baby.
Leah's world was turned upside down when Jeremy moved out on Leah in 2014. Leah then checked herself into rehab to be treated for an addiction to prescription painkillers, and in an attempt to try and save her marriage.
Jeremy had already had enough and the couple finalized their divorce in June 2015.
Leah has been very candid about her journey to diagnose and then manage her daughter Ali's rare form of muscular dystrophy, which we have all seen play out on the hit MTV show.
Now single, or so we think, Leah has been much better about keeping her relationships a secret nowadays. She kept her brief relationship with T.R. Dues secret for months.
Leah wrote a book Hope, Grace, & Faith where she talks openly about being a young, single mother, her addictions and troubles raising a daughter who needs extra care.
Article continues below advertisement
Briana DeJesus
Briana DeJesus joined the ladies of Teen Mom 2 in season 8. Briana was originally one-fourth of the cast of the short-lived Teen Mom 3.
Briana's daughter Nova Star was born on September 10, 2011. Briana gave birth to her second daughter Stella Star on July 2, 2017.
As far as Teen Mom feuds go, the one between Briana and Kailyn Lowry will go down in history as one of the biggest.
Briana seemed to butt heads with most of the other moms, but things took a nasty turn when Brianna shockingly started to date Kailyn's ex-husband Javi Morroquin.
Soon after, their feud went from subtweeting to full-on social media war. The two were releasing private text messages they had sent one another.
OG fans of Teen Mom 2 seemingly took Kailyn's side, with many fans attacking Briana for breaking "girl code."
In probably the most shocking tease from the season 10 trailer, Briana is seen telling a friend via FaceTime that she slept with Luis Hernandez — the father of her three-year-old daughter, Stella. Later on during a confessional, the 21-year-old admitted that she has "not processed" that her baby daddy "gave me an STD."
Jade Cline
In probably one of the worst-kept reality TV secrets ever, Jade Cline joined the Teen Mom 2 cast as the newest cast member.
The news was confirmed during a Teen Mom 2 reunion episode. Jade was previously a cast member on the short-lived MTV spinoff, Teen Mom: Young + Pregnant.
Jade's journey on Teen Mom started two years ago after having her daughter Kloie, now 3, with boyfriend Sean Austin.
In the season 10 trailer, Jade's drama seems to be with her family as she tells them she's "done being people's doormat." The young mom is then seen screaming about how she doesn't "want to f–king film."
Jade joined the show to fill the spot left by original cast member Jenelle Evans.
Jenelle Evans
Lions, Tigers, and Barbara oh my!!
Jenelle Evans was one of the original cast members of Teen Mom 2 when it premiered in 2011.
Jenelle gave birth to her first son Jace in August 2009. Jennelle continued to party after giving birth, and heavily relied on her mother, Barbara, to take care of her son. In 2010, she signed over temporary custody of Jace over to her mom.
Jenelle's trouble with the law started in 2010, when she and her then-boyfriend Kieffer Delp, were arrested for allegedly breaking into a neighbor's home and possession of drug paraphernalia.
Things seem to turn around for Jenelle in June 2013, when she found some comfort in the arms of male model Nathan Griffith, whom she met on Tinder.
Jenelle and Nathan welcomed their son, Kaiser in June 2014. Nathan popped the question the following January, but their engagement was short-lived. The couple split up due to their constant arguing and fighting.
Turning to Tinder again, Jenelle struck up a relationship with David Eason. The couple welcomed their little girl Ensley Jolie Eason on January 24, 2017. The couple got married shortly after.
Jenelle's husband got the ax first from Teen Mom 2 after allegedly tweeting homophobic remarks that mocked the LGBT community.
Jenelle was let go from the show in April 2019 following reports that her husband, David Eason, allegedly shot and killed her dog.
Jenelle took to Instagram claiming that David shot and killed the family's French bulldog, Nugget.