REALITY TV
How @BabsEvansMTV Would Recap Episode 11 of Teen Mom 3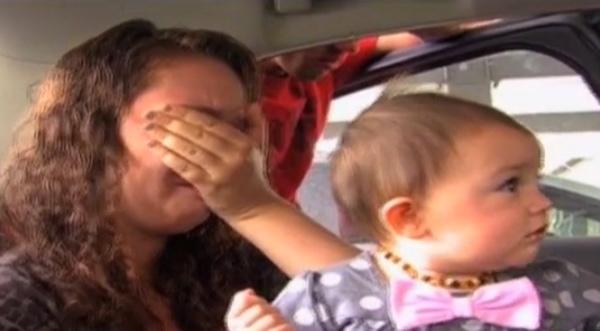 The theme of this week's episode of Teen Mom 3 was "Fight and Curse In Front Of Your Babies." Well, except for Alex. She had a good night. Read on to see what crazy arguments went down with Briana, Mackenzie and Katie, and what @BabsEvansMTV has to say about 'em, too.
OK! News: Teen Mom's Maci and Ryan Reunite for Bentley's Birthday
Mackenzie's mom goes out of town for a few days so she's basically on her own in the cleaning, cooking, and taking-care-of-Gannon department. But the good part of all this? Josh finally calls her and stops by (and brings her saddle, in case you were worried) and they decide to give it another shot and become Facebook official. But when Mackenzie wakes Gannon up at 10pm to go out with Josh? Yeah. Mackenzie's parents aren't happy.
Article continues below advertisement
@BabsEvansMTV would say: "Why ya wakin' up ya baby so he can be with is LOOSA fatha? Let ya baby sleep and give yaself some time away from ya ex BOAYfriend. Ya parents are just lookin' out for ya!"
Briana starts talking to a new guy, Jacob, until Roxanne and Brittany find out and they are not happy. They don't want her dating because it's hard for a guy to date a girl with a baby and also because he's a loser, blah blah blah. When he calls her and asks her out, Roxanne gets all upset because all she wants to do is protect Briana and so Bri can't go because the ladies refuse to babysit. Hm..not sure which side we're on here.
@BabsEvansMTV would say: "I agree that you should be able to go out and have some fun even though ya got a DAWTA, but ya sista's right! Don't date another guy like that LOOSA Devoin! Ya motha is just protectin' ya!"
Photos: Read Last Week's Recap of Teen Mom 3
Alex had her very first night out in a long time on tonight's episode where she attends a concert with some friends. Her friends want to meet some guys, but Alex admits that the baby is her priority over romance, especially after her date from last week, David, ended up two-timing her already. Good decision, Alex. Good decision.
@BabsEvansMTV would say: "I'm proud of ya for being a responsible motha. Pizza after a CONCEAT is betta than hookin' up with some random GUYHS and gettin' PREGNANT again!"
Katie is not having an easy time with the breakup. But would you be able to get over it three days post-split when your ex hand-delivers a note saying that he's seeing someone else? Props to Joey for being honest with her now, but clearly this girl was in the picture when they were still together. Not cool, Joey. Also not cool? That montrous fight they had at the end of the episode when they were splitting up their stuff and moving out. So much cursing in front of the baby! Police involvement! So hard to watch.
@BabsEvansMTV would say: "I was CRYIN' when Joey and ya motha were fightin' over the baby! What he's doin' ta ya is not FEAH! But still, ya gotta watch ya mouth around ya baby! No MOAH cursin'!"
Photos: The Teen Mom Girls With Their BFFs
Which girl did you feel the worst for on tonight's episode? Tweet us @OKMagazine or tell us on our Teen Mom Facebook page!