REALITY TV
How @BabsEvansMTV Would Recap Episode 10 of Teen Mom 3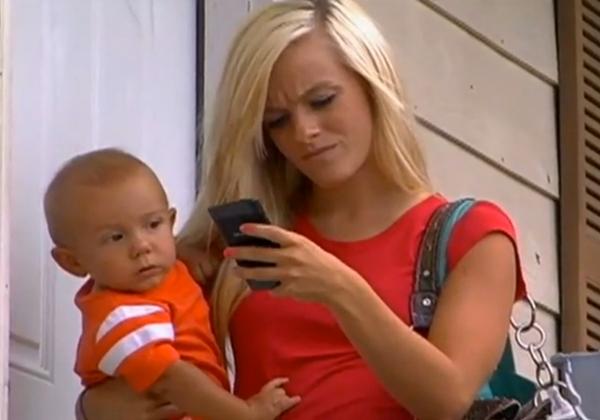 And we're back with @BabsEvansMTV's (hypothetical) thoughts on tonight's Teen Mom 3, where we saw the demise of Katie and Joey, a terrible 18th birthday experience for Briana and more. Here's the scoop...
OK! News: Which Teen Mom Star Is Trying on Engagement Rings?
Mackenzie is still upset that Josh lied to her and then told her that he needed some space, so she and some GFs go on a camping trip to get their mind off boys. Though boys would've come in handy when it came time to pitching that tent since Kenzie's hairbrush wasn't cutting it...Anyway, then Josh texts Mackenzie and tells her to come pick up her saddle, so she does but he's a no show and doesn't answer any of her calls while she's there waiting for him at his place. Cool.
MORE ON:
Alexandria Sekella
Article continues below advertisement
@BabsEvansMTV would say: "I feel bad for ya, Mackenzie, but Josh doesn't want NUTHIN to do with ya ANYMOAH! But I can't believe he didn't even answer ya CAWLS or texts when you're standin' outside his DOAH holdin' ya baby!"
OK! News: How Did The Teen Mom 3 Girls Celebrate Mackenzie's Birthday?
Briana's sister had her own fun a few weeks ago when she went on a roadtrip with some friends, so now it's Bri's turn. She and three friends decide to spend the night at a hotel for her 18th birthday and end up going to a club. None of the ladies had fun at all, and so when Briana goes home to tell her mama about the terrible experience, Roxanne tells her never to go to a club again. The end.
@BabsEvansMTV would say: "I wish the most AWFUL thing my dawta was doin' was going to CLUBS! My dawta is smokin' weed and hanging out with KIEFFAH! You're a good motha and ya got a good head on ya SHOULDAS! Ya'll are allowed to have a little fun!"
Alex calms down a lot this week, which is probably partly because she gets a call from Matt saying that he's doing well in rehab and hopes to get out soon so he can celebrate Arabella's birthday. But it's also probably because Alex goes on a group date mini-golfing with a cute dude, David, who's the opposite of Matt and actually seems interested in getting to know her and her baby. Finally.
@BabsEvansMTV would say: "I'm so proud ah ya that ya gettin' over ya LOOSA ex boyfriend in rehab! David seems like such a better guy fa ya! I hope ya like each OTHA!"
Katie and Joey haven't gone one episode without fighting, but tonight it all comes to a head and he finally, with the urging of his stepdad, tells Katie that they need to take a break. Katie freaks out because she doesn't want to imagine life without him, but he basically leaves and tells her that she can keep the house and all the stuff and that he'll stop by randomly to hang out with Molli.
@BabsEvansMTV would say: "Are ya kiddin' me, Katie? Ya love a guy like Joey who screams at ya and treats ya like CRAHP? Ya deserve betta and you're gonna get betta for you and ya dawta when ya get over this LOOSA!"
Photos: The Teen Mom 3 Girls Then and Now
Which girl did you feel the worst for on tonight's episode? Tweet us @OKMagazine or tell us on our Teen Mom Facebook page!