REALITY TV
Watch: Kim & Khloe Kardashian Break Character On 'KUWTK' Over Kourtney's 'Lunatic' Therapist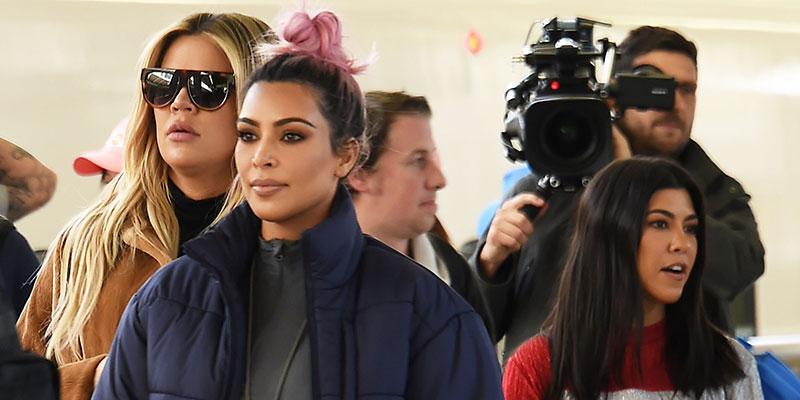 Kim and Khloe Kardashian are trying to get to the bottom of Kourtney's rude attitude this season on Keeping Up with the Kardashians.
This all started during the season premiere last week, when Kourtney wasn't exactly the friendliest while Kim tried to set up a photo shoot for the family. This led to a major battle between the two, when Kim flat out said "she's the least interesting to look at!" before Kourt stormed out of the building.
Article continues below advertisement
Now Kim and Khloe are trying to get to the root of Kourt's behavior, and they have their sights set on one person: her therapist. It was brought up during last week's episode, when Kim seemingly mocked Kourt for using therapy-speak to describe her feelings. Her ex, Scott Disick, told Khloe that she's been quoting her therapist to him too, so there's a pattern that seems to be developing.
The sisters once again confront Kourt, and it doesn't go well... again. She continues to do what she did in the first episode by looking at her phone and ignoring them. Kourt says that instead of being mean like she used to that she will just be quiet moving forward. Her standoffishness makes Kim and Khloe break character as they face the camera and say "If you are watching this, we hate you," in regards to Kourt's therapist (who they call a "lunatic). Ouch!
MORE ON:
Kourtney Kardashian
Kourtney then reluctantly does a group therapy session with her sisters (they use another therapist that isn't hers). "I'm the one who invented mean fighting," Kourtney confessed during the meeting. "I'm just not wanting to fight like that anymore. I don't want to be mean and I don't want to spend my time around people that are mean and putting me down."
It's a statement that Kim retorted with by saying ""You're preaching that you just want this Zen life and that you're so positive and you don't want to fight, but then most of the time you're arguing about stuff that's like, 'Again?'"
Kim then calls Kourt "anxious and insecure," Khloe supports her stance by saying that this is something "they've never seen from her before" and Kourt pretty much thinks that her sisters aren't "genuinely" happy for her.
Will things eventually get better for these three in the future? Keeping Up with the Kardashians airs Sunday night's on E!
Watch the clip above! Whose side are you on in this sisterly battle? Sound off in the comments!