REALITY TV
Tamra Judge Fires Back At 'Sweet Christian Girl' Lydia's Comments Calling Her 'Pathetic'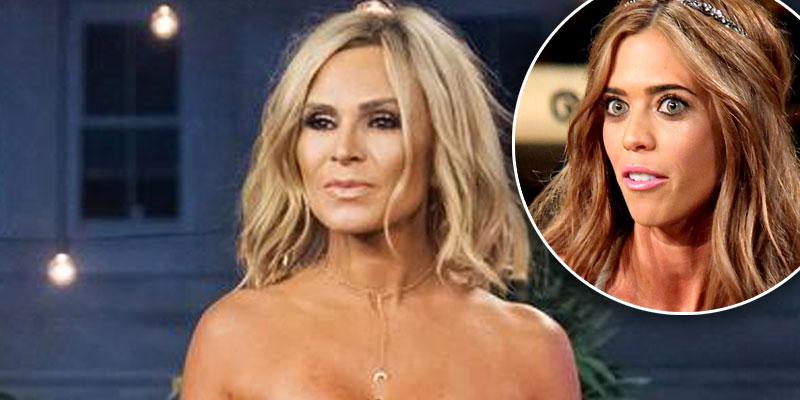 The former Real Housewives of Orange County star Tamra Judge may no longer be on the Bravo series but she remains in the spotlight after calling out her former co-star Lydia McLaughlin for her nasty remarks.
Their recent feud took off when former RHOC McLaughlin decided to "spill the tea" with some choice words about Vicki Gunvelson and Judge's decision to leave the show earlier this year.
"I felt like it was a long time coming, honestly," McLaughlin told Bravo's The Daily Dish during an interview after the two stars revealed their departure. "I think it's a good switch-up. I'm excited to see what the cast does."
Article continues below advertisement
She continued praising Gunvelson, explaining: "I love Vicki, and I ran into her a couple times, and I think it's good for her. I think she's ready to leave," McLaughlin told Bravo over the weekend. "She has a successful relationship, she has an engagement. She has a daughter, she's a grandmother. I think that she has a lot going on."
LUXURY DIVA: LISA VANDERPUMP'S NET WORTH & HOW SHE SPENDS HER MONEY!
The evaluation for the 58-year-old was followed by some harsher words for 53-year-old Judge. "I do know that Tamra … she's not letting it go," she said. "She's still talking about it. I just feel bad for her, it's kind of, like, 'OK, you need to move on and do something else.' She's talking about the next season, and I think it's a little … it sounds pathetic."
Judge didn't take to the judgment kindly as she posted McLaughlin's comment on her own Instagram page, followed by a few of her own choice words- calling out McLaughlin's new show 'Glitter Town' in the caption. "Please don't feel sorry for me sweet Christian girl, I'm doing just fine," Judge captioned the quoted post.
Article continues below advertisement
DENISE RICHARDS DELETES NEARLY NAKED PHOTO OF HUSBAND AARON PHYPERS
"I have two companies, a real estate license, 4 kids, granddaughter and amazing husband and a new show in the works (not an online series that I had to pay for myself). I watched one of your episodes, the one where you talk about empowering women and lifting them up," she added. "Great episode, hypocrite."
The California native continued explaining that Bravo offered her a role in the series but she declined the "limited roll" so she could spend time with her family as they deal with "some devastating health issues we are facing as a family." The reality star's ex-husband, Simon Barney, has been battling stage 3 throat cancer. "How dare you judge me," she wrote.
FROM CHRISTINA MILIAN TO NICKI MINAJ: IT'S THE CRAZIEST CELEBRITY NIP SLIPS EVER!
Judge also noted that after being on RHOC for 12 years, it is extremely normal for people to ask about the series frequently and often. The mother of four- who left the series six months ago- concluded her rant saying, "if anyone needs to move on its you! Here's your 15 minutes of fame… enjoy! BTW Vicki don't love you," followed by the teared up laughing emoji.
Article continues below advertisement
The TV personality also responded to a comment adding that "I've been off six months… She got fired twice years ago and still talking Housewives."
The two former RHOC- Judge and Gunvalson- have been under fire from the current housewives as they posted a video of themselves mocking their former castmates. "They filmed the season finale two nights ago and oddly enough, we weren't invited," Judge said in the video. "And guess what?" Gunvalson added on. "The episodes are down to 12 versus 22… Maybe there's no content because they are fake bitches."
The Real Housewives of Orange County Season 15 is set to premiere on Wednesday, October 7 at 9 p.m. ET.