REALITY TV
'F--k Him': Fans Outraged After Jenelle Evans' Husband Killed And Ate Pet Goat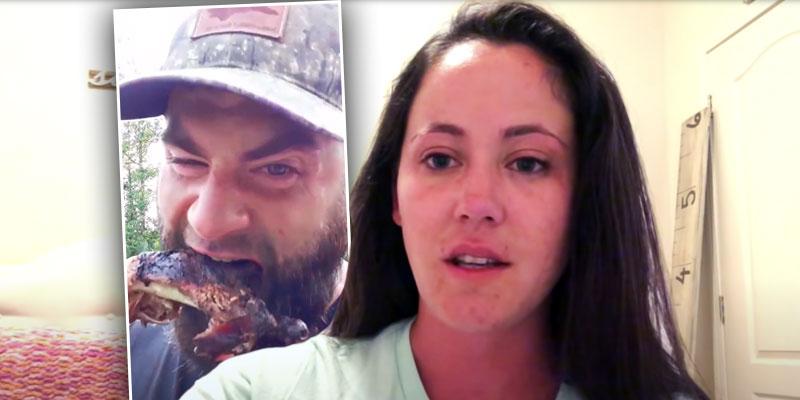 Teen Mom fans were outraged after Jenelle Evans' husband, David Eason, posted a video over the weekend of himself eating the family's pet goat, Elvis, and showing off the animal's severed head.
Eason — who already faced backlash after killing the family dog, Nugget, in 2019 — was again under fire for the graphic video, in which he talked about eating the pet goat, who was born and raised on their family farm and who he even called "sweet baby" on his Instagram.
Article continues below advertisement
The 32-year-old showed off the "goat nuggets" as he cooked them in the family kitchen on Saturday, September 12. In the post, he wrote: "This is where goat nuggets come from, for all those asking."
He addressed the camera as he bit into the meat, explaining, "If you're wondering what a goat tastes like off the grill, well I'm here to tell you: tastes like chicken, tastes a little like beef or pork, and it's real good." The former Teen Mom 2 star then broke the disturbing news that "this is Elvis, the little baby we had last year."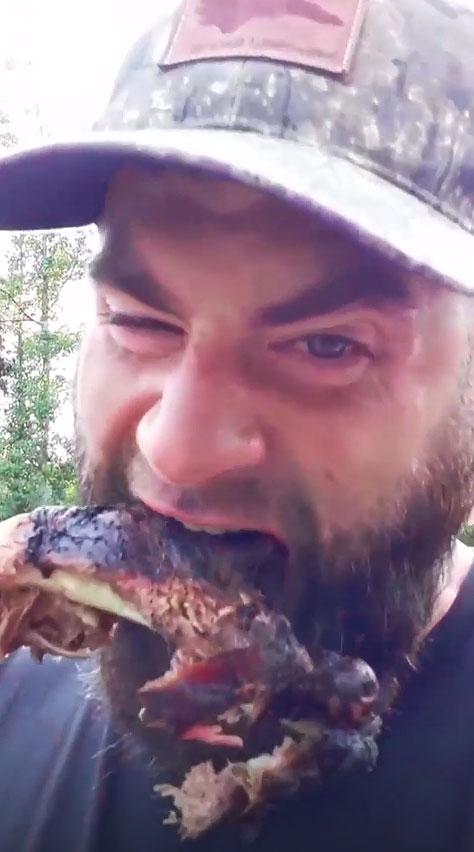 "It's f**king delicious, people should eat more goat," the North Carolina native added.
TEEN MOM 2 TEN SEASONS LATER: BABIES, BREAKUPS AND BLOWOUTS, THE CAST THEN AND NOW
To further address the non-believers, the father showed off the severed head in the trash on social media and said: "For those who don't believe it was goat, it is. His name was Elvis." Not only were fans in complete disgust over the graphic image, they were angered that he killed their family pet.
Article continues below advertisement
One fan responded that Eason "has zero respect," as a second fan called out the couple and said: "What David and Jenelle do isn't homesteading or farming. They have no respect or integrity for living things, including their children. You can humanely raise, harvest and butcher an animal. You don't need to post a picture of it in a trash can covered with f**king Coors Light cans."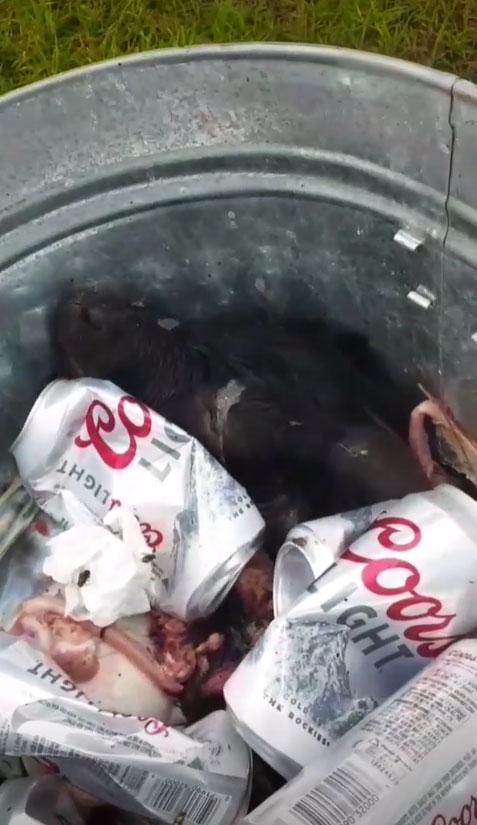 Another fan added that "This is why I'm glad she's off the show. No more funding their lifestyles for guns/animals. F**k him and f**k her too."
The goat killing came just one year after Eason came under fire for killing their family dog. In a new YouTube series, Eason tried justifying the act: "About Nugget, she was a loving dog to me, but she was not loving towards our kids at all."
FAMILY DRAMA! CELEBRITIES WITH THE MOST BABY MAMAS & DADDIES EXPOSED
"Any time we were taking a video of the kids, we'd have to delete the video and not post it because she wouldn't play nice. She'd bite their feet, bite the tires of their bicycle. She wasn't always vicious but she had vicious tendencies," Eason explained. "She was really kinda mean, we put up with it for a very long time. She bit Ensley more than one time and the first time it happened, we should have gotten rid of her.
Article continues below advertisement
"I took it upon myself to put the dog down, and that's the way my family has done it when a dog bites someone," he said, explaining why he shot the dog. "There were times when a dog would bite me, and my dad would put it down. A lot of people around here, if a dog goes through their yard, they'll just shoot it."
In addition to losing Nugget, the former Teen Mom 2 stars also lost their jobs from MTV. "MTV ended its relationship with David Eason over a year ago in February 2018 and has not filmed any new episodes of Teen Mom 2 with him since," an MTV spokesperson explained at the time. "Additionally, we have stopped filming with Jenelle Eason as of April 6, 2019, and have no plans to cover her story in the upcoming season."
The on-again-off-again couple tied the knot in 2017 and share a 3-year-old daughter, Ensley. Drama surrounded the couple after Evans filed a restraining order in 2019 only to reunite with the baby daddy in 2020; they split again in June after Eason was put in cuffs for assault with a deadly weapon.
JENELLE EVANS REUNITES WITH DAVID EASON IN NASHVILLE
Despite the controversial graphic video posted over the weekend, 28-year-old Evans didn't seem to mind as she posted photos of her "thick" figure on social media after Eason's ex and baby mama, Olivia Leedham, posted risqué shots of herself from a photoshoot.
The MTV alum left little to the imagination as she showed off her curves in a yellow triangle bikini with her large cheetah thigh tattoo on full display. She captioned the "lazy Sunday" photos in her backyard, "Cause she thick... thi thi thi thi thick," and added the #lazysunday hashtag.
Leedham, 31, posted the sexy shots from her photoshoot in hopes of winning Maxim's Covergirl contest after making it to the voting round. The model and Eason dated in the early 2010s and welcomed son, Kaden, together — who she now has sole physical and legal custody over.