REALITY TV
Watch: Vicki Gunvalson And Kelly Dodd Get Into A Blowout Fight On 'RHOC'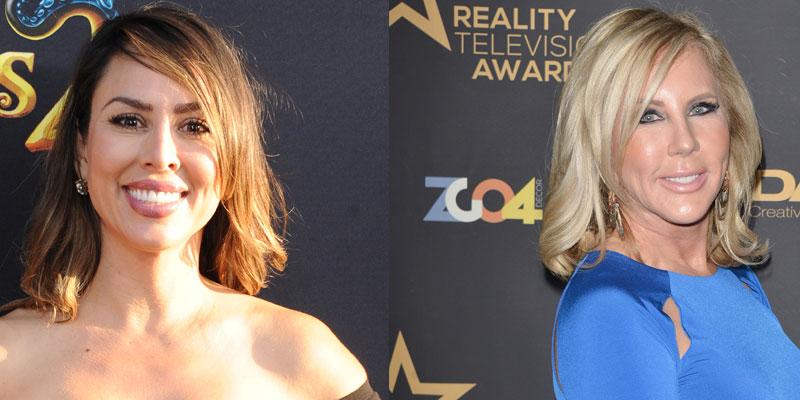 Things may be on the outs for Real Housewives of Orange County buddies Vicki Gunvalson and Kelly Dodd.
In a sneak peak of Monday night's episode, things seem to be going great for the two as Vicki stops by Kelly's place and they chat about her dog prior to them sitting down with one another.
Then things take a turn for the nasty when Kelly confronts Vicki about setting up her ex Michael with his new girlfriend!
Article continues below advertisement
"I want to talk to you about a little rumor. I'm getting all of these text messages and everything that you hooked up Michael," Kelly said to Vicki. She quickly denied any wrongdoing shortly after.
"I didn't hook up Michael. I had a barbecue four months ago, my friend was there and he was there. I didn't hook up anybody. They communicated afterwards. I'm out," she shot back at her. "I didn't tell you because I didn't know what it was going to and it was none of my business. … I thought he would tell you. It's his responsibility to tell you. … Don't blame me. Take it up with Michael!"
Kelly and Michael split up after 11 years of marriage back in 2017. They share one child with one another: a 12-year-old daughter named Jolie.
Things only got worse between the RHOC friends when she found out that Michael and his girlfriend had been on double dates with Vicki and her man Steve Lodge!
"You've gone out with them a couple times? And you never told me?" Kelly yells. "Why would you not tell me? Are you kidding? … Anybody would say that's f—ked up."
Vicki responds with "Stop! Don't point your finger at me! Don't you dare to that. It's not my fault that your husband is dating somebody." So will Vicki and Kelly's friendship be completely done now that she has found out about all of this?
The Real Housewives of Orange County airs on Bravo Monday nights at 9:00 PM/8:00 PM CST.
Watch the clip above! Whose side are you on in this: Vicki's or Kelly's? Sound off in the comments!