STYLE
Aly Michalka: Dresses That Get You Noticed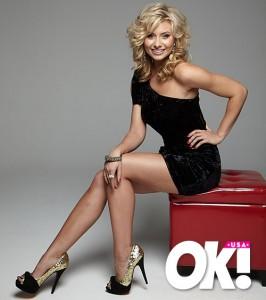 As smart-chick cheerleader Marti Perkins on her hit TV show, The CW's Hellcats, Aly Michalka spends a lot of her time in cheerleading skirts and workout gear. But with New Year's Eve quickly approaching, it's time to get glam.
"It takes me about an hour and a half to get ready for a party," Aly confides to OK!. "For a film premiere, I'll usually use a stylist — but sometimes I style myself. It's nice to go and get a dress and just do my own thing. I'll even do my own hair and makeup."
Article continues below advertisement
When Aly showed up to model the four hottest looks of the season for OK!, she got a head start on finding her perfect holiday party dress.
"The silver sequin dress — I actually want to wear that for New Year's!"
Here, Aly dishes on fashion, cheerleading and parties!
How do you stay in shape for those short, midriff-baring cheerleading outfits?
I kickbox and bike. I mix it up. It's about having a consistent workout. I exercise five days a week and eat what I want pretty freely. Of course, I don't go nuts on carbs!
How hard is it to do the cheerleading basket toss?
It's hard for me because I'm tall. Those stunts are meant for people who are short, like 5-foot-2, and I'm 5-foot-8. But I did it, and it's pretty satisfying. My mom was a Raiders and Rams NFL cheerleader, so I think she gave me that talent!
You're in the band 78violet with your sister, AJ, and she's also set to star in a few episodes of Hellcats. What are the best and worst parts of working with her?
Article continues below advertisement
She's going to have a recurring role this season and she's coming back next season, which I'm so stoked about. I think that because we're so comfortable with each other, we can say something that we don't realize is hurtful, like, "Shut up. You're bugging me!" We get on each other's nerves like any siblings. But at the end of the day, we're pretty close.
Recently you were compared to backin- the-day Christina Aguilera. Do you think you look like her?
It is kind of right on.
Have you ever been mistaken for another celebrity?
AJ and I have been mistaken for the Olsen twins, which is funny because we're so much taller than they are — and we don't look like them at all! But we thought that was cool. We've always loved them and we love their clothes, so that's a good compliment!
Do you have a kiss planned for midnight this New Year's Eve?
I'll probably be in L.A., and I have somebody who is not in L.A., so I'll have to wait until after New Year's. But that's all right.
What are you going to be doing on New Year's Eve?
I'm probably going to see friends and go to a party. I think it's important to be around people you care about to start out your new year with positive influences. Plan your year wisely — it's a brand-new start! should be sleek, not bulky. Go for bias cuts and bod-skimming silhouettes.