STYLE
Flawless Faces! Stars With Perfect Skin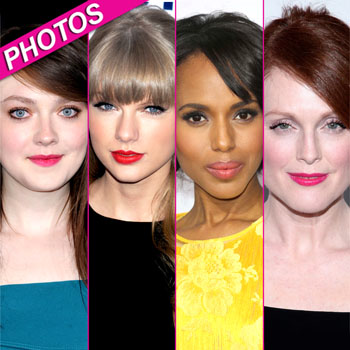 No acne attacks, sunspots, or wrinkles for these stunning celebrities! It doesn't matter if they are in their teens or over the age of forty, these hot Hollywood stars manage to avoid skin woes and maintain flawless faces, no matter what age bracket they fall under.
RELATED: JULIANNE MOORE, SALMA HAYEK, AND MORE STARS WITH ENVIABLE SKIN
Most teenagers feel the wrath of hormones and have to deal with pesky breakouts, but not Dakota Fanning! The 18-year-old actress, who spent her coming of age years in the public eye, has always maintained perfectly smooth skin.
Article continues below advertisement
Forty is the new thirty when it comes to celebrity skin! Multi-tasking moms Jennifer Garner and Bethenny Frankel both manage to maintain their gorgeous faces despite juggling their demanding careers with their supermom schedules. And just a year shy of fifty, Elisabeth Shue, who has sworn off plastic surgery her entire life, looks just as flawless as she did in her twenties.
Flawlessly faced over fifty, Julianne Moore, 52, and Susan Sarandon, 66, have clearly defied the natural aging process without going under the knife. Both of the critically acclaimed actresses have been in the public eye for most of their lives, and have managed to age gracefully and gorgeously.
Article continues below advertisement
Jane Fonda may be 70-years-old, but she certainly doesn't look a day over 50 with her sensational skin and fantastic figure.
But you don't have to be a celebrity to look younger and achieve flawless skin. On a recent episode of his Dr. Oz show, Mehmet Oz, M.D. talked about a new study focusing on how a combination of human growth hormone (hGH) and amino acids work together as an anti-aging agent. hGH is an essential hormone produced by the body that's responsible for ramping up collagen production, the protein that helps your skin maintain its structure. As you age, hGH and collagen production naturally slow down, which can lead to thinner, looser skin. But the results of the recent study Dr. Oz cited have shown that a new product, SeroVital, can improve hGH levels by up to 600 percent. SeroVital comes in pill form and contains a special blend of amino acids that, when taken on an empty stomach, have been shown to naturally boost your body's production of hGH.
Who do you think has the best skin in Hollywood? Sound off in the comments below!