STYLE
Healthy Eats: Try a Light, Delish Dish That's Vegetarian-Friendly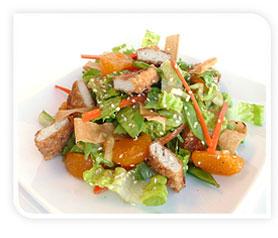 Article continues below advertisement
2 tbsp sesame seeds, toasted
1 head romaine, cut into ¼ inch shred
Salad Dressing:
1/4 cup soy sauce
1/4 cup fresh lemon juice
1 tbsp agave nectar
1 tbsp rice vinegar
1 tbsp sesame oil
1/4 cup safflower oil
2 cups wonton strips
Mix snow peas, carrots, cabbage, mandarin oranges, scallions, sesame seeds and romaine in a large bowl.
Whisk together soy sauce, lemon juice, agave, vinegar, in a small bowl, then add sesame oil and safflower oil in a slow stream, whisking for a min or two. Cut Gardein tenders into ½ inch pieces and add to salad with the wontons. Toss salad with dressing and serve.
Like what you taste? Gardein is offering The New Taste of LA contest on their Facebook page for the chance to score a trip to Los Angeles where the winner will dine at Chef Tal's Crossroads restaurant—but the promotion ends on June 21 so you better hurry if you want to enter!
What's your favorite meatless dish? Share it in the comments below or tweet @OKMagazine.