STYLE
OK! Look of the Day: Kim Kardashian and Kanye West's Parisian Chic Outerwear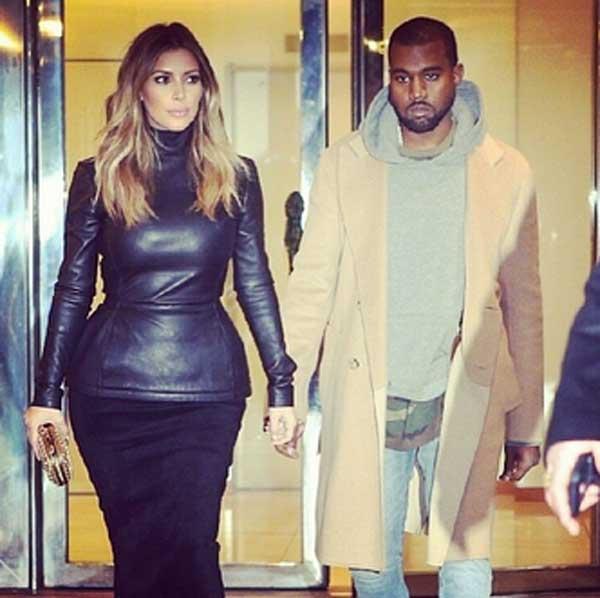 Kim Kardashian and Kanye West seem to be in Paris more often than not, (you know, fashion week, interviews, recording, the works) so maybe that's why all those rumors are circulating that the duo will tie the knot at Versailles. That and the fact that they posted a picture in front of the palace on Instagram. But before we go all style scientist on you and predict what wedding dress Kim K will walk down the aisle in, let's talk about both Kim and Kanye's Parisian chic outfits.
Article continues below advertisement
OK! News: The Exercises to Get You Kim Kardashian's Butt
Photos: Kim Kardashian's Winter Neutral Style
Neither of them would show up in the world's capital of fashion in a sub-par getup—let's be real. So what did we see from the new mom? While you might be completely ready to kiss peplum goodbye and not revisit the silhouette for at least a couple months, Kim revived the trend with a turtleneck leather version with a much longer hemline. She paired it with a body-skimming black skirt and a textured clutch. Her new and improved wardrobe isn't boring, but it is definitely without a ton of frill and frou frou. However, we do know Kim is a believer in crop tops—she's only worn a few dozen (OK, we're exaggerating) white knit ones in the past few weeks.
Her beau showed off his layering skills in a camo button-up underneath a pale green hoodie and a neutral trench. Hey, we like it, Kanye. You look sophisticated and casual without trying too hard. Keep up the good work.
What do you think of their Parisian chic ensembles? Do you think they both deserve a round of applause? Tweet @OKMagazine and leave a comment below.