STYLE
OK! Look of the Day: Kim Kardashian Shopping With Her Statement-Making Birkin Bag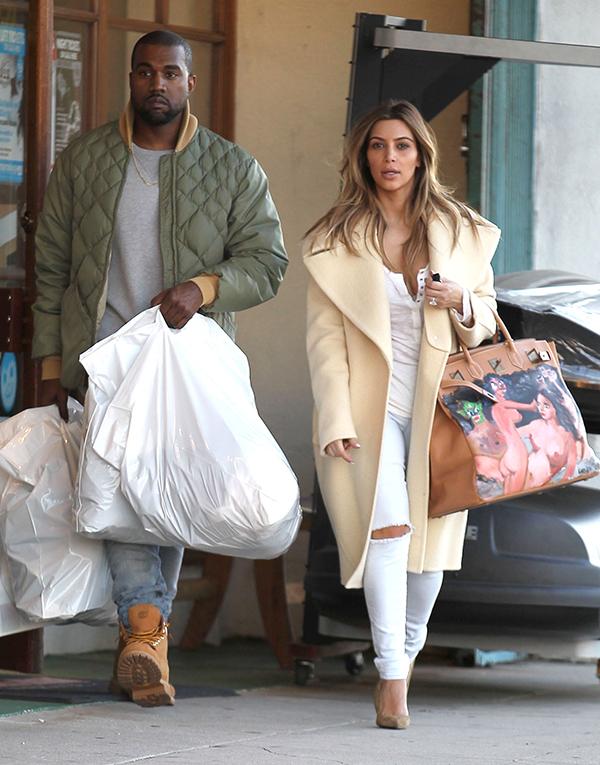 What did you expect him to get her? A sweater? On Christmas morning, Kanye West (the king of extravagant presents and perhaps, extravagance in general) gifted his fiancé Kim Kardashian a Birkin Bag—probably the most luxurious accessory ever made, besides a crown encrusted with the type of diamond on Rose's necklace on the Titanic, of course.
You probably already know this because you follow Kim K on Instagram, and hey, no judging here because so do we! In addition to showing her appreciation with a photo upload, she went out shopping with her beau and brought along the new hand-painted handbag. What, did you really think she was going to let it sit in a gift bag for a week or two before breaking it out?
Article continues below advertisement
To let the bag seriously steal the spotlight, Kim Kardashian finished her errand-running look a pair of ripped white skinnies, camel pumps, what appears to be a white button-up henley, and a camel mid-calf length winter coat.
Watch: Courtney Kerr Reveals What's In Her Purse!
Overall, we'd be lying if we said we didn't like her outfit. But that bag, what do we think of the bag? In the meanntime, we'd love to see more pics of the Kardashians' Christmas presents.
More importantly, what do YOU think of her present? What do her sisters think? Ponder with us by tweeting @OKMagazine.