STYLE
OK! Loves: Tieks! They're Comfy, They're Cute, and They Come in Lots of Valentine's Day Colors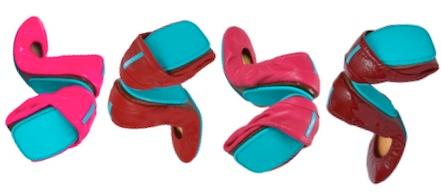 I said it all in the headline, but, oh, alright, I will continue to talk about shoes. I recently treated myself to a pair of Tieks after many months of gazing with jealousy at all the women in New York City who were quite obviously not in any pain.
OK! LOVES: THESE FOUR WINTER BEAUTY MUST-HAVES
At first, I thought, $165 for flats?! Never! But then I remembered that I'm not 23 anymore and the heels I used to wear every weekend have long been wondering when I became such a loser, and why. I still don't have an answer, but regardless, I currently love me some flats.
Article continues below advertisement
OK! LOVES: TRIED AND TESTED SKIN CARE PRODUCTS
If you're looking for a guilt-free splurge, get yourself a pair of Tieks. You won't regret it. And if the comfort and cuteness factor isn't enough justification for you, I offer you this: they come in a variety of pinks and reds, making them perfect for Valentine's Day. Don't have a date? Who cares, you have new shoes you will never tire of (and you can't say the same about that loser who still hasn't asked you out).
Featured here, from left to right: Pop Pink ($195), Cardinal Red ($165), Fuchsia ($165) and Ruby Red ($195). All available at Tieks.com.
Do you have Tieks? Do you love them? Tweet me @reallylsass and let me know!