STYLE
OK!'s NYC Fashion Week Blog: Rebecca Minkoff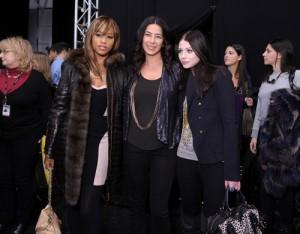 Can't make it to NYC for Mercedes-Benz Fashion Week? Don't worry, OK!'s got you covered! Today we checked out Rebecca Taylor's runway show for a sneak peek at the designer's spring collection and loved every minute!
SHOW: Rebecca Minkoff
WHEN: February 11, 2011
WHO: Sean Lennon, Michelle Trachtenberg, Jessica Szohr, Eve, Katrina Bowden, Kat DeLuna, Aygness Deyn, Louise Roe, Stephanie Pratt, Lo Bosworth, Tika Sumpter
Article continues below advertisement
FASHION: Black, whites and grays were the prevalent colors. An extremely wearable collection that looked great for anyone in their 20s to their 40s! A standout was a khaki trench coat with fur on the top. Leopard was woven throughout the show, which included a leopard jumpsuit. Another standard was the black wool and leather cape that not only Michelle Trachtenberg loved but created a stir in the audience.
OK!'S NYC FASHION WEEK BLOG: REBECCA TAYLOR
BEAUTY: Hair was loose and long, done by Ouidad. Makeup was natural with a pink lip by stila.
COLOR/OVERHEARD: During the show, Michelle took photos with her camera phone. As black jeans went by, Michelle shook her head yes. When a pinstriped dress came by she mouthed "oh my god" and fanned herself. She also clapped when a black wool and leather cape strutted down passed her. Michelle sat with friend Jessica Szohr who was a later arrival. She wore her hair up with a natural look, compared to Kat De Luna who had very straight blonde hair and was wearing a tight dress (she looked great!). Music was a special performance by Sean Lennon and Charlotte Kemp Muhl of the Ghost of a Saber Tooth Tiger.