STYLE
The PhilmGuy's DVD Review: 'The Five-Year Engagement' Starring Emily Blunt and Jason Segel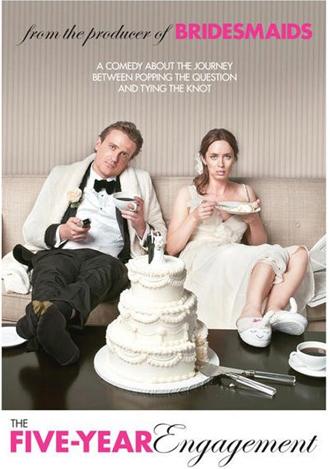 Battleship — As far as movies based on board games go, you could do a lot worse than this big, dumb yet thoroughly entertaining Navy procedural. Taylor Kitsch stars as an black sheep Naval officer who seizes control of his ship after aliens attack earth and disable just about all its armed forces. Spectacular effects and nonstop action keep the idiotic plot afloat, and an eye-popping cast, which includes Rihanna, Brooklyn Decker, Alexander Skarsgard and Jerry Ferrara (Turtle from Entourage) make for a lively party. The movie also works as a sort of Friday Night Lights reunion, with series creator Peter Berg in the director's chair and Jesse Plemons, who played Landry in the series, joining Kitsch, the former Tim Riggins. The Blu-ray/DVD/digital copy combo fires at you with a tour of the movie's ship, an alternate ending with Berg's commentary and a look at the special effects.
Article continues below advertisement
OK!'S PHILMGUY REVIEWS COSMOPOLIS STARRING ROBERT PATTINSON
Boardwalk Empire: Season 2 — HBO's sprawling Prohibition-era drama continues to carve out its niche as a compelling slow burn. Golden Globe winner for best actor Steve Buscemi leads the way as Nucky Thompson, a ruthless gangster and political manipulator who rubs elbows and tangles with the likes of Lucky Luciano and Al Capone. The Roaring Twenties come to life in the fevered tone, painstaking period detail and stunning performances from Buscemi, Michael Pitt, Kelly Macdonald and Michael Shannon. The Blu-ray/digital copy combo comes with featurettes that look back at life in the '20s, picture-in-picture commentary of a watershed episode, and a dossier that helps you keep track of the ever-expanding web of characters.
The Five-Year Engagement — Jason Segel and Emily Blunt play one of those annoying couples who say they're engaged but don't seem to have much interest in nailing down a wedding date. Waiting for just the right circumstances in their work and family lives to line up in order to plan the ceremony, they're stuck in a holding pattern that makes them and everyone else around them question how much they love each other. The film starts off as witty and thought-provoking, but fades as it goes along, turning into a still mostly worthwhile endurance run. A filmmaker/cast commentary track, deleted scenes and a few funny featurettes round out the Blu-ray/DVD/digital copy combo.
Article continues below advertisement
Jersey Shore: Season 5 Uncensored — After the previous season's ignominious voyage to Italy, the gang is back in its familiar stomping grounds of New Jersey, raising hell at Seaside Heights, N.J. Although the series has long since rushed too far into the arena of self-awareness, there's still plenty of fun to be had with the overtly staged mayhem. The reunion special, deleted scenes and confessionals shore up the slate of extras.
OK!'S PHILMGUY'S DVD REVIEW OF DR. SEUSS'S THE LORAX STARRING ZAC EFRON AND TAYLOR SWIFT
Life Happens — Krysten Ritter stars as a woman who becomes a single mom after a one-night stand who over-relies on her two roommates (Kate Bosworth and Rachel Bilson) for childcare and support as she tries to jump back in to the dating world. Romantic comedies are usually predictable, but this one commits that sin without managing to be funny or romantic, nor making Ritter's self-absorbed, self-pitying character likable. An overly emo soundtrack only drags things down further. The non-existence of extras on the disc speaks to the studio's lack of confidence in the movie.
Article continues below advertisement
The Lucky One — If you're a fan of other Nicholas Sparks adaptations, such as The Notebook and Dear John, you'll find a lot to love in this sappy yet endearing romance, starring Zac Efron as a conflicted war vet who falls in love with a single mom (Taylor Schilling) he tracks down after finding her picture on a battlefield. Earnest performances lift the predictable material to a higher level than you might expect. The Blu-ray/DVD/digital copy combo comes with a featurette on Efron's pseudo combat training, as well as a look at the sizzling chemistry between the leads.
Think Like a Man — The romantic comedy adopts Steve Harvey's dating guide for a battle-of-the-sexes romp. The achingly contrived story pairs up several members from a couple of social circles in relationships. Each character inhabits a self-destructive stereotype, and the laughs come in the way they clash with one another. Meagan Good, Regina Hall, Gabrielle Union, Chris Brown and Jerry Ferrara head up the cast, and the movie hits more than it misses — if you're a sucker for that sort of thing.
The Walking Dead: Season 2 — AMC's adaptation of the gritty comic book series continues to ratchet up the tension in its second season. In a post-apocalyptic, zombie-infested world, straggling survivors collaborate, bicker and and connive their way to stay alive. Thanks much to its restraint — the show is no gore-fest, using its frightening moments sparingly to bookmark the human drama — the series is relentlessly engrossing. Commentaries and illuminating making-of featurettes fill out the set. Featurettes explore the movie's themes and filming, and there are also deleted scenes and outtakes.