STYLE
The PhilmGuy's DVD Review: 'Tarantino XX: 8-Film Collection,' 'The Expendables 2'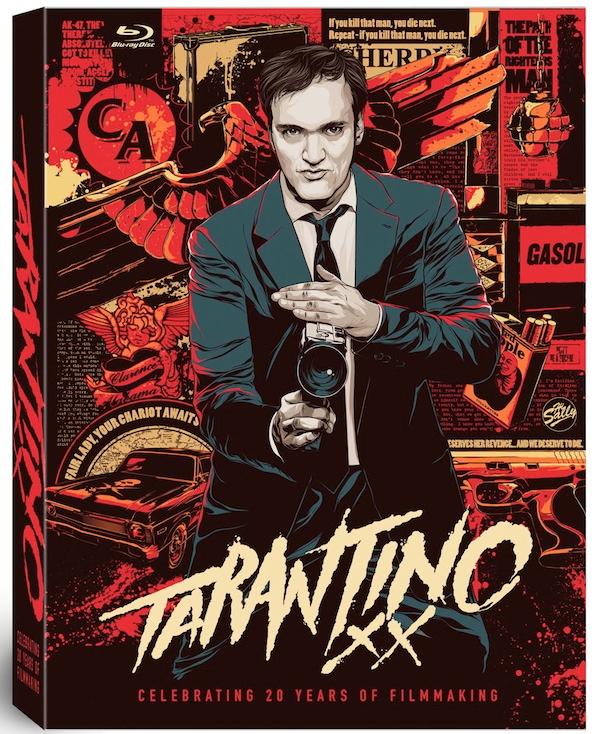 Ancient Aliens: Season 4 — A&E's ridiculous but fascinating series continues to chug along, rounding up its gang of so-called experts who theorize that aliens have been in touch with humans throughout the history of civilization. According to the show's talking heads, the aliens handed us technology, built us stuff, taught us about how the world works and messed with us at their whims. Some of the evidence is reasonable, but there's an equal amount of ludicrous nonsense there to spoil the good stuff.
Article continues below advertisement
Bill & Ted's Excellent Adventure Blu-ray — Keanu Reeves And Alex Winter play a pair of slackers who travel through time at the behest of a mentor from the future (George Carlin) in order to put together the ultimate history presentation that will allow them to pass their classes and avoid military school. One of my favorite movies as a kid, the 1989 comedy has lost much of its hilarity, but still retains all of its charm. It's refreshing to see Reeves so loose and boisterous rather than the wooden actor he would one day become. Extras on the disc include a guitar tutorial and the movie's radio commercials from the era.
DreamWorks Dragons: Riders of Berk — While TV series spawned from most animated movies are half-hearted afterthoughts, this one maintains and surpasses the standard set by the source film, How to Train Your Dragon. The show follows the continuing adventures of dragon-training teen Viking Hiccup (Jay Baruchel) and his pals as they try to get the elders to acclimate to life with their newfound fire-breathing allies. Clever storytelling and energetic animation make every episode a treat. Extras are limited to a slew of previews.
Article continues below advertisement
The Expendables 2 — Sylvester Stallone rounds up his crew of has-been action stars for another go-round; one that's far more engaging than the dull, slow-moving 2010 predecessor. Jason Statham, Jet Li, Chuck Norris, Jean-Claude Van Damme, Dolph Lundgren, Bruce Willis and Arnold Schwarzenegger are all along for the nonstop explosion-fest ride, about a team of mercenaries who are out to stop five tons of rogue plutonium from making it a bad day for the planet. The writing is crass, the storytelling is choppy and characters utter laughably forced catch-phrases, but there's an appeal to watching so many childhood heroes still getting at it. The Blu-ray/digital copy combo has filmmaker commentary, deleted scenes and several making-up featurette.
Game of Thrones: Season 1 Collector's Edition Blu-ray — It's odd to see another Game of Thrones season one release months after season two of HBO's stunning fantasy drama wrapped up, but this is a no-brainer for those who are obsessed with the series. The set comes with not only every episode on DVD and Blu-ray, but digital copies of all of them, along with the first episode of season two and a freakin' dragon egg paperweight. All the voluminous extras from the previous Blu-ray release — including commentaries, background featurettes that examine the characters, environment, mythos and making of the show — are back as well.
Article continues below advertisement
Harold & Kumar: Ultimate Edition Blu-ray — The three movies in the series — the 2004 original, Harold & Kumar Escape from Guantanamo Bay (2008) and A Very Harold & Kumar Christmas (2011) — as link up in this box set. Kal Penn and John Cho play slacker, pothead pals who wind up pulling one another into insane adventures that usually intersect with the antics of Neil Patrick Harris, playing a ridiculous, womanizing version of himself. The first movie is by far the best of the lot, but the Christmas movie is also blisteringly funny, while the middle act only occasionally recaptures the magic. All the commentaries, deleted scenes and making-of featurettes are here, but there's little extra to entice those who already own the movies. The set comes in a tin that includes coasters and an air freshener. Digital copies, which aren't there, would have been nice.
Tarantino XX: 8-Film Collection Blu-ray — Just about all of writer/director Quentin Tarantino's output in his first 20 years of filmmaking gets crammed into this set. Reservoir Dogs, True Romance (which Tarantino wrote but Tony Scott directed), Pulp Fiction, Jackie Brown, Kill Bill Volumes 1 and 2, Death Proof and Inglourious Basterds, all of which rank among my all-time favorite movies, make up this impossibly amazing set. All the movies here have been released on Blu-ray before, and some of them multiple times, but the set takes, from what I can gauge, the best versions of each, with complete slates of extras. On the minus side, there's not much that's new in the set, although there are a pair of fantastic new retrospective featurettes. The set is available for $90 online, which is a steal if you're into Tarantino's blend of pop culture references and catchy dialogue.