STYLE
Sarah Lancaster Shows Off Coats You'll Love All Winter!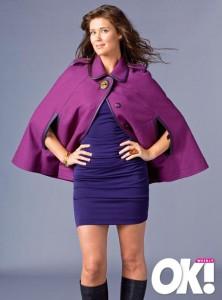 Chuck star Sarah Lancaster is no stranger to the cold — she grew up in Kansas. "I remember crazy winters," Sarah tells OK!. "But now my blood is thin! In L.A., I'm a wuss." Of course, there is one great thing about winter: coats! So what was Sarah's favorite style she modeled for OK!? "The purple cape. I like a pop of color."
On the show, you play Ellie, Chuck's sister. How are you different from the character?
Article continues below advertisement
Ellie is sweeter and much more domesticated than I am. For scenes they always get me in the kitchen and I constantly have to have the prop guys show me how to chop things!
Disney to Demi Lovato: We Support You!
It's a fun show. Do you love comedy?
With the past two big shows I'd done — What About Brian and Everwood — I felt like I was crying on national television for years, so I was looking for something lighter. When I got Chuck, there was a lot of encouragement to go off script. That was a little jarring. My best day was when they finally used one of my improvised lines.
CHECK OUT THE FOUR COOLEST WAYS TO KEEP WARM IN THE GALLERY!
Are you into fashion?
I am into fashion. I am a girl. I like to shop. Where I get in trouble is online shopping, so I need to stay away from Shopbop.com and Chicdowntown.com, and all of those sites. Even my boyfriend can identify the red soles on Christian Louboutin shoes now!
COVER STORY: 'Teen Mom' Amber Steals Leah Back!
What's your style?
I think I'm classic with a little California bohemian in there, too.