STYLE
Shenae Grimes-Beech and Josh Beech on Their Style Blog, Two Halves, and How Working Together Has Made Their Relationship Stronger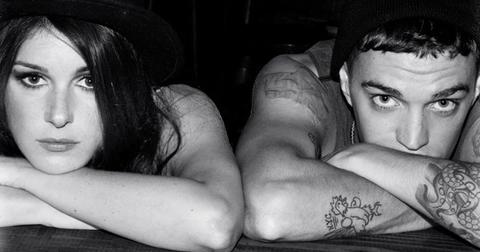 There are the couples that rock "his and her" embroidered towels, those that don matching knit sweaters during the holidays, and the few that simultaneously run and passionately collaborate on an impossibly cool style-meets-music fashion blog. Shenae Grimes-Beech and model/musician hubby Josh Beech can be confidently placed in the third category—actually, they might just lead the pack with their blog, Two Halves.
Article continues below advertisement
We caught up with the couple and got the inside scoop on their inspiring project, how working together has actually helped their relationship, and the need-to-know details on their aggressive dryer that is shrinking all Josh's clothes.
OK! Magazine: I've been looking at the blog, and it's really cool. What made you guys want to collaborate on a blog together?
Shenae Grimes-Beech: I had a blog, and I just wasn't happy with the way it looked and was being run. I shut it down and was planning on starting a new one but really didn't know what step to take first. Josh said, 'You just need to start it yourself.' So we, along with a  friend of his who does web design, created the space and thought it would be more fun to do something together. We always balance ideas off of each other, so it just made sense to kind of have a home for all of that.
Look of the Day: Sheane Grimes' at BeautyCon LA
OK!: You are both artists. Were you worried about collaborating together? Sometimes it can be like too many cooks in the kitchen.
SGB: Fortunately, we have totally different taste in a lot of respects. It's called Two Halves so he can do his post about hardcore music, and I can do the girly style stuff.
OK!: Josh, what was the feeling you wanted to get across for your "half" of the blog?
Article continues below advertisement
Josh Beech: Chicks loves looking on the Internet and looking on blogs and stuff. This website is for girls and their boyfriends. Shenae is always looking at stuff and for me, it sometimes, more often than not, gets kind of boring. With this, there are a couple of girly parts and then, all of a sudden, there is a radical dude thing which might be about a cool new band or a cool new street wear brand that's more aimed at guys. It's for the dudes and the girls sitting on the couch, talking in the evening.
OK!: Do either of you follow any other blogs?
SGB: The one blog that peeked my interest from the get-go was I Love Wildfox. I've been a fan of that for years and years. That was kind the main one that I woke up to every morning with my coffee and went and checked in on.
OK!: How has each of your careers helped you in launching this—in writing the posts and planning it out?
JB: It has been really helpful that I spent the last six, seven years doing modeling and learning a lot about men's fashion and learning a lot about women's fashion from having to shoot with girls.
Article continues below advertisement
SGB: I think it's helped us create a voice that's constantly evolving. You see a lot of stuff out there that's kind of your "everyday girl" with really sick personal style, speaking to other "everyday girls." Then, there is the celebrity thing where you hone in on a particular celebrity because you like them for whatever reason. For us, I think we try to walk that fine line. We're the next-door kids that got a lucky break, and we're involved in this world that people hype up a lot and would love to be a part of. We just want to be an outlet to share our experiences within it.
OK!: You both share your style on the blog. Do you help each other out with fashion? And will you be honest if something doesn't look right?
SGB: Yeah! He will sometimes look at me when I'm getting dressed and say, 'Um, yeah.' laughs He helps me more so than I help him. Josh has his uniform of t-shirts, skinny jeans, and a leather jacket or denim jacket. He can kind of do no wrong. I have a lot of questionable pieces in my wardrobe that should just stay hanging and not be worn.
Article continues below advertisement
OK!: How has this project made you closer as a couple?
JB: We share a desk!
Shenae Grimes and Josh Beech Spill Details on Their Cute Relationship! 
SGB: We spend a lot of time together. That was the point. We love spending a lot of time together and we didn't when I was on 90210—I was working such long hours!
JB: It's been a cool learning experience and has brought us both together. You can live with someone and love someone with all your heart but working with someone is a totally different thing. For us, it has made us stronger—hearing each other and having more of an open mind towards each other's ideas.
OK!: What have you learned from each other style wise?
JB: I think the biggest thing she's taught me is that she's really good at expressing herself without having to be really loud. She's taught me that it's really easy to express and be individual in your style but keep it on trend at the same time. Sometimes I wish I could wear some of the things she wears. She has some cool stuff that's pretty fun.
Article continues below advertisement
OK!: Shenae, do you get to borrow from Josh's wardrobe?
SGB: Regularly. We have a very aggressive dryer that shrinks everything we own. For me, it's fine. I don't mind if it shrinks a little bit because I probably stretch it out while I am wearing it. He is very tall, so when something shrinks a little bit, he can't wear it anymore. I get all of the hand-me-downs. I love it!
JB: I wear all of my clothes once and then Shenae owns them.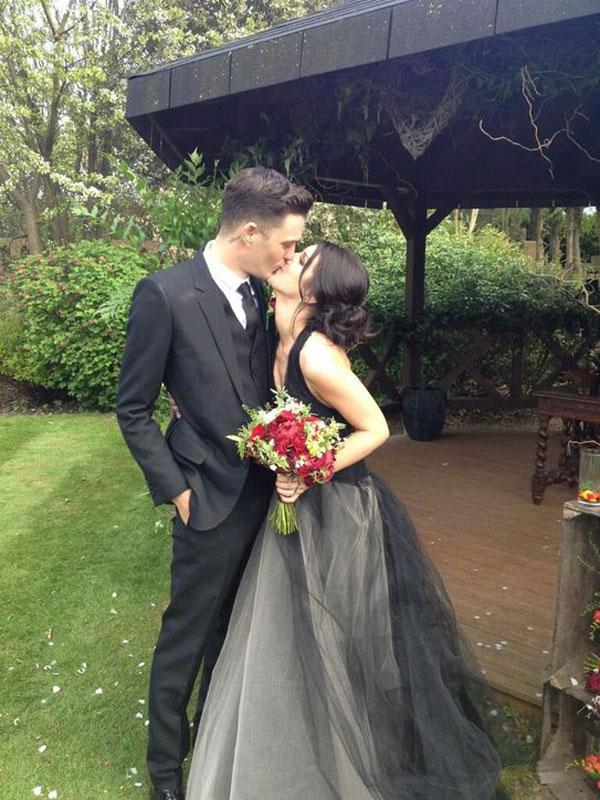 OK!: Did you two make a New Year's style resolution? 
SBG: The way I dress is very simple the majority of the time. I like to stick to a very simple black and white palette. I want to do something a little bit more fun with my hair because it's your best accessory. I have also debated piercing my nose for the past six months. I don't know that I will. The idea is constantly floating around.
JB: I'm actually bleaching my hair today.
Article continues below advertisement
OK!: Really? What made you want to do that?
JB: We're shooting my band's new music video next week, and I wanted to look a little different. The aesthetic of the video is very dark and punk and very black and white, so I wanted to bleach my hair out so there is just a little bit more contrast on the black and white. It looks really cool on screen. Shenae doesn't really like it. She's worried I am going to look like 1998 Eminem.
OK!: What is the one item you need in your closet?
SGB: Wedge, platform heels that don't make you look like you have cankles but are comfortable. I cannot do the stiletto thing. If you are planning on spending more than 15 minutes on your feet that evening, I would definitely suggest investing in a solid pair of platform shoes.
JB: I would probably be a leather jacket. You can dress up a leather jacket and dress it down. It only gets better with age. It's kind of something that you only have to buy once.
Article continues below advertisement
OK!: Do you two have any Valentine's Day plans? 
JB: We actually wanted to go away for a few days. I think we will just be excited to hang out. I've got to go back to London to finish things for my band's album, and Shenae has work commitments. We'll be excited to see each other. That will be the first time we've spent any night apart in 18 months.
SGB: I'm having like a minor panic attack about it. I've called my girlfriends so that I'm totally consumed with girl time.
Will you visit Shenae and Josh's blog? What's the one item you can't live without? Tweet @OKMagazine and leave a comment below.