STYLE
Styled by Stassi: Statement Jewels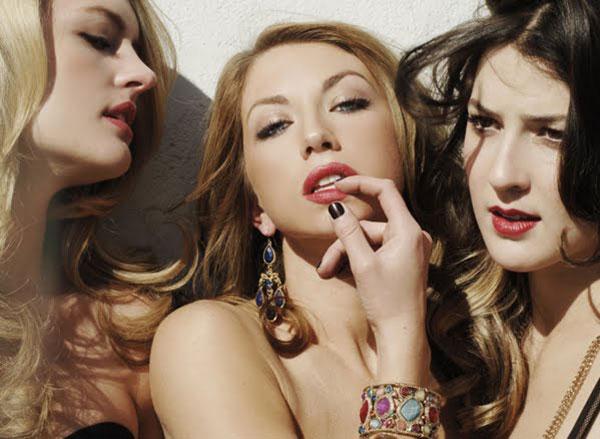 Vanderpump Rules' Stassi Schroeder is OK!'s newest style star! Each week, Stassi will be giving you a peek into her chic world to hear about the fashion trends she's loving and how she's using them to style herself and her friends.
How to Style a Classic Sheath Dress
It's no secret that the holiday time calls for an added element of sparkle. This magical time of year allows for us to showcase the most glamorous versions of ourselves. I've said before that my favorite way to brighten an outfit is to amp up the jewels, and the holiday season is no exception. Statement necklaces, flashy gold bangles, show-stopping earrings, sparkly cocktail rings… I always look for any opportunity to layer the baubles. If you are looking to add a few statement pieces to your jewelry box, check out some of my personal tips for bringing on the bling.
Article continues below advertisement
Statement Necklaces
Yes, I am a necklace addict. The statement necklace has always been a go-to accessory of mine. I've always found that any outfit can be transformed by what you wear around your neck. Even a pair of jeans and basic white t-shirt can instantly be stylized by an over-the-top string of jewels. When looking for your own personal statement necklaces, identify what metals and colors you are attracted to. I'm a sucker for gold and I often gravitate towards neutral colored gemstones; however, I love a good colorful attention-grabbing piece. My favorites:
Cosmopolitan Suede Braided Chain Necklace Black, $22.99, shopprimadonna.com
Guinevere Crystal Statement Necklace, $58, nordstrom.com
Bangles and Bracelets
I personally think bracelets are the most personal of the jewelry bunch because it's all about layering your favorites. I have some bracelets that I never take off. They all tend to be gold, dainty and given to me by someone close. And then I have my chunky bangles and cuffs that I add for a more glamorous look. Find which pieces speak to you and pile them all on. My favorites:
Article continues below advertisement
Rachel Zoe Doble Crystal Barrel Cuff Bracelet, $295, shopbop.com
Lucky Brand Gold-Tone Snake Cuff Bracelet, $42, macys.com
Eye-catching Earrings
When I choose to wear earrings, I like them to be the focal point. I never wear earrings and a necklace at the same time. I always think it's important to consider your face shape and coloring for statement earrings. I like sleek longer earrings in shades of blue to lengthen my face and enhance my eyes. The key is to always try earrings on before you purchase. It's trial and error in seeing what works best with your face. My favorites:
Club Monaco EB Statement Earrings, $170, shopbop.com
Lacy Rectangle Tortoise Drops Brown/Turquoise, $10, shopprimadonna.com
Cocktail Rings
Oh, how I love a good cocktail ring! Like bracelets, I find that with rings, there are no rules. Sometimes I like one big show-stopping ring, sometimes I wear a few dainty wispy rings, and other times I find myself wearing 4 rings at once. Just look for what speaks to you, and if you decide to layer them all, try and find some cohesion. Try layering a bunch of rings in the same metal or color family so some unity. My favorites:
Noir Jewelry Oval Cocktail Ring, $85, shopbop.com
xx Stassi
Don't forget to check out the latest episode of Vanderpump Rules, tonight at 8/7c on Bravo and let us know what you think of Stassi's blog @OKMagazine!