STYLE
Travis London's Healthy Chic Eat of the Week!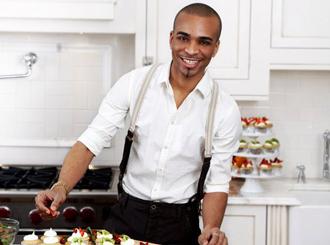 Travis London is all about eating and living well — the healthy and chic way — and his week, Travis shares his recipe for a delicious Grilled Fish Taco with Mango Salsa.
"Need something easy-to-make and healthy? Try my Authentically Baja-Style Grilled Fish Tacos With Mango Salsa, it's not only tasty but it's also full of antioxidants and omega 3's," Travis tells OK!.
TRAVIS LONDON'S HEALTHY CHIC EAT OF THE WEEK — PASTA WITH BUTTERNUT SQUASH SAUCE
Article continues below advertisement
Baja-Style Grilled Fish Tacos With Mango Salsa
Serves 4
For the Mango Salsa:
Ingredients:
3 ripe mangos, peeled, pitted, diced
1 medium organic red bell pepper, minced
2 organic limes, juiced
4 tablespoons finely chopped cilantro
1 red onion, minced
2 green onions, thinly sliced (green part only)
1 organic jalapeño pepper, stem removed, seeded, minced
Directions:
Combine all ingredients in a large mixing bowl. Mix well to combine and refrigerate until ready.
TRAVIS LONDON'S HEALTHY CHIC EAT OF THE WEEK — LOW CALORIE CHEESECAKE
For the Tacos:
1 pound mahi mahi or cod fillets, rinsed, patted dry
2 tablespoons canola oil
1 organic lime, juiced
1 teaspoon chili powder
1/2 teaspoon crushed red pepper
1/2 teaspoon garlic powder
1/4 teaspoon oregano
1/2 teaspoon ground cumin
1 teaspoon kosher salt
8 whole-wheat flour tortillas
2 cups shredded organic red cabbage, steamed (Optional)
Article continues below advertisement
Directions:
Place fillets in a shallow baking dish. In a small mixing bowl, whisk together canola oil, lime juice, salt, and spices. Pour mixture over fish, cover, and place in the refrigerate to marinate for 30 to 45 minutes. Over medium high heat, heat stove top grill pan or griddle. Remove fish from refrigerator and place on grill. Cook fish for 2 to 3 minutes on each side, depending on the thickness of fillets. Fish should flake easily with a fork. Place tortillas on the grill and grill for 10 to 15 seconds on each side.
Chic Tip: For a chicer presentation when serving, spread an even amount of red cabbage onto the bottom of each tortilla, top with an even amount of fillet portions, and spread an even amount of mango salsa on top of each. Fold filled tortillas and place together in a serving dish.
Healthy Tip: Mangos are full of anti cancer properties so you're not only eating something that's good, but good for you! Plus, because mangos are cooling, they are great thirst quenchers."