STYLE
What's Trending with Tara: Neoprene Swimwear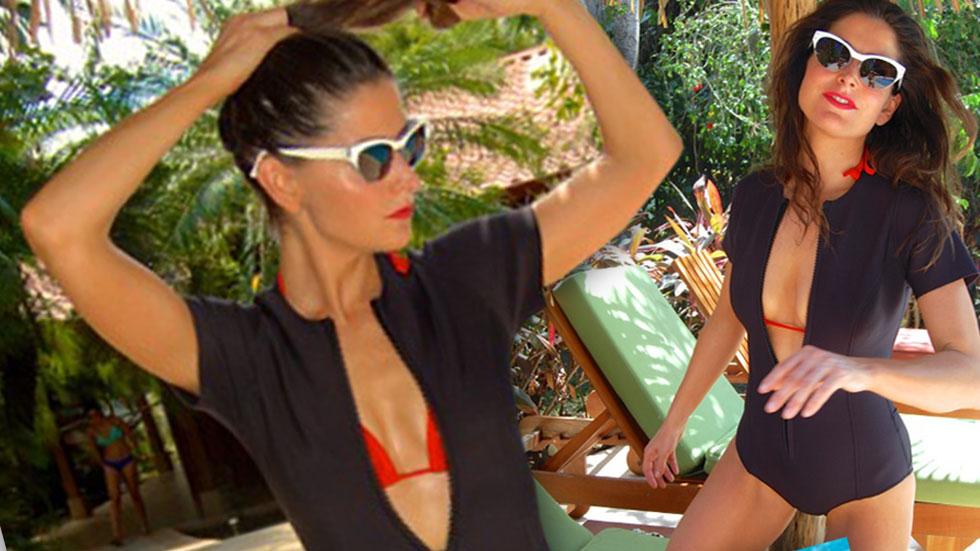 Hip hip hooray! Today marks the first day of spring, and with that, I have spring break on the brain! After such a long, cold, snowy winter, everyone could use a warm weather excursion. I think a nice shot of vitamin D could do all of our moods some good. But those dreams of sipping on a Mai tai with the sound of waves crashing in the background brings the reality that all those body parts covered up for months will suddenly be bare and out and about. Eek, talk about shell shock!
Article continues below advertisement
I have to admit I was feeling a bit anxious about slipping right into one of my itty-bitty string bikinis that I wore to death this past summer. I decided I should treat myself and invest in a new suit that would help ease my way into the vacation and, of course, carry over into the summer months.
When it comes to swimwear, I am usually a less-is-more kind of girl--especially around the derrière-- but overall I am not a believer in hard-and-fast "fit rules." It's all about personal style and how comfortable you are with your body. The most important thing is finding what makes you feel confident.
As I have gotten older, I have realized that being active and really utilizing my body is what makes me feel the most confident. However I will not compromise style and sex appeal for practicality. Therefore when it came to purchasing new swimwear this season, investing in one of the biggest bathing suits trends, Neoprene, was a no-brainer.
Neoprene, stemmed from wet suit and scuba diving material, has become the fashion world's "it" fabric -- from skirts and crop tops to swimwear galore. Made for the water, neoprene is flexible, spongy, sporty and sexy. Nowadays, swimwear brands and fashion houses all over the world have incorporated this exciting fabric into bikinis, one pieces and tankinis.
Article continues below advertisement
The neoprene swimsuit trend spans further than just the body glove-inspired scuba look. With designers like Trangl, Lisa Marie Fernandez and Indah Swimwear, options range from ultra feminine floral and ruffle bikinis to BOND GIRL badass. Here's a break down of why I really love these new Neoprene swimsuit styles.
- No other material lifts and molds to the body better than Neoprene. How can a girl resist a little hug and lift here and there? No fuss, no bulge, seamless yet offers structure. That's four stars right there!
- If you select a scuba girl style with a higher neckline and/or covered shoulders, the neoprene fabric is a closed-cell material, meaning no sun gets through and is naturally sun-protected. Whether I'm on a surf excursion with my girlfriends or splashing around in the water with my daughter, having that extra protection on my décolleté and shoulders is key for maintaining a youthful appearance.
- Neoprene is extremely soft, stretchy and comfortable. As mentioned above, it is super supportive so you can forego needing additional materials like underwire, boning and padding.
Article continues below advertisement
- Lastly, even with the special washing solutions I purchased at a high-end swimsuit boutique, my swimwear always seems to look pretty haggard by the end of the season. Unlike other bathing suit fabrics, Neoprene is extremely durable and long lasting.
So consider getting some sleek Neoprene lovin' to add a bit of edge to your swimwear. It is just the thing you need for the perfect good-girl-gone-bad look with a splash of practicality to boot.
Article continues below advertisement
Check out the Instagrams below and see for yourself why I am wilding over Neoprene. Don't forget to follow me on Facebook, Instagram and Twitter and for more tips & picks visit TaraBryanStyle.com. If you're rocking a great look, give me a shout out by hashtagging #TaraCheckIt for a chance to be featured in my upcoming posts!
https://instagram.com/p/zupRHRwnCO/
https://instagram.com/p/0Y8GNJHHhz/
https://instagram.com/p/zUfaxCIhrk/
https://instagram.com/p/xvj1eZlNKb/
https://instagram.com/p/i6WNCHTVKF/
https://instagram.com/p/t1QHG1sYde/
https://instagram.com/p/eheq0ghMwb/
https://instagram.com/p/wRnh03lcuv/
https://instagram.com/p/vAf5M_AC1A/
https://instagram.com/p/y3mYOotjGi/
https://instagram.com/p/yetsN6hWeN/
https://instagram.com/p/xqtwc6veoe/
https://instagram.com/p/kGkswVy4A1/
https://instagram.com/p/w0bLS-oETB/
https://instagram.com/p/wfk9icAC5z/
https://instagram.com/p/ssFR1XpfHY/