STYLE
Which Oscars Look Has Inspired Brad Goreski to Change His Hair?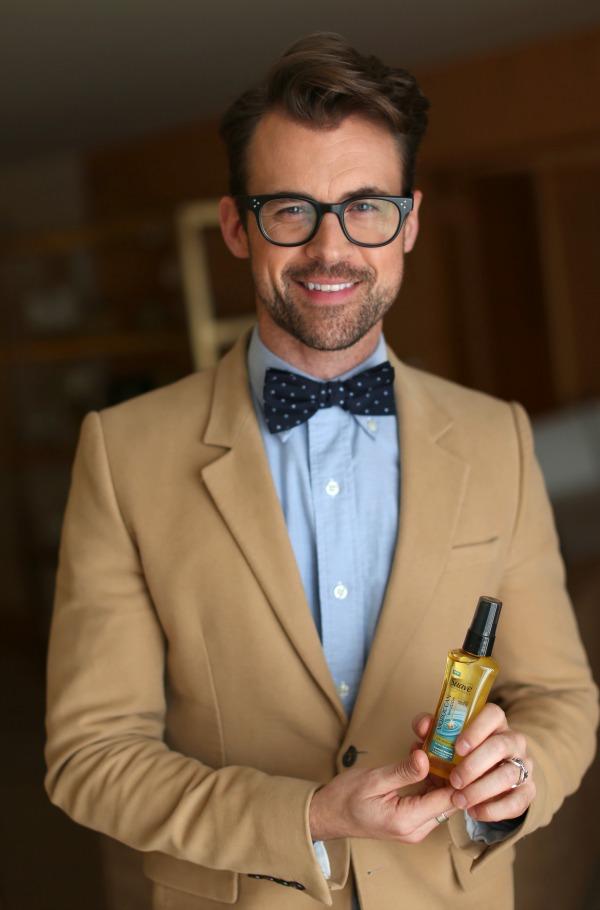 If you want to talk about last night's Oscars red carpet, there is one man to talk to and that is Mr. Brad Goreski himself. The celebrity stylist dishes on the look he'll be talking about all week, the man who may have inspired his new haircut and the one Oscar moment he was thrilled to see.
OK!: Let's get right down to business. Which look will you be talking about all week long?
Brad Goreski: I think the look I'm going to be talking about all week long and the one everyone else is going to be talking about is Lupita Nyong'o. She looked even more beautiful in person, just so stunning. That color, the flowy fabric, how so much skin was showing but in such a  nice tasteful way. She was just glowing from the inside and out.
Article continues below advertisement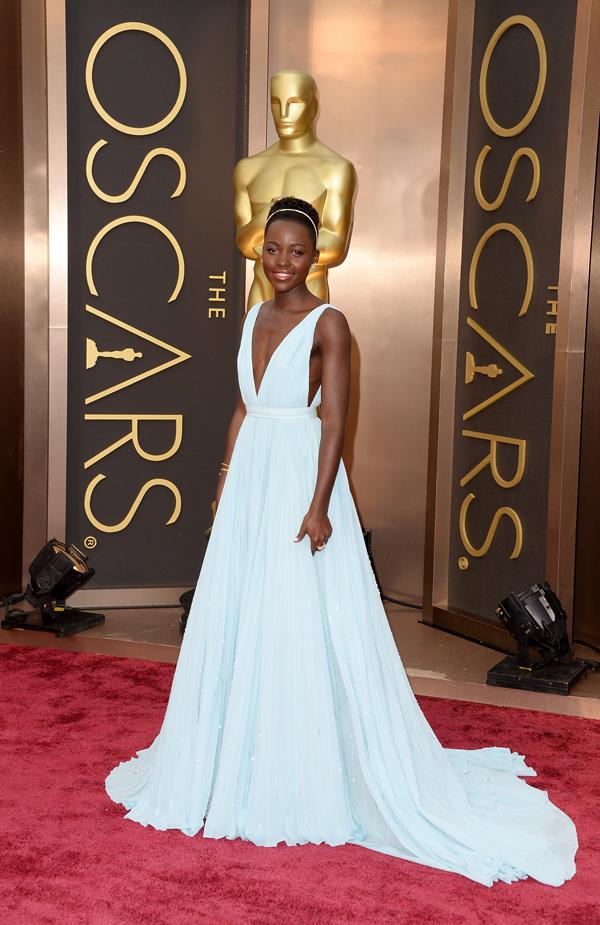 OK!: What do you think about the headband?
BG: I like the headband. I thought after a season of her really doing a lot of fashion looks, especially near the end of the tour, that it was nice for her to kind of show up and have a princess moment. It was a nice piece of jewelry as well since the look didn't have a ton.
Photos: The 15 best dressed celebs at the Oscars
OK!: Did any of the looks make you gasp, for better or worse? 
BG: I thought with the carpet last night, people played it really safe so there weren't a lot of those gasp moments. I loved Lupita as I said. I thought Amy Adams looked really really beautiful as well. It was very sleek and sophisticated but I thought the tailoring on the gown was incredible and her hair and makeup was outstanding. I didn't really think that there were any huge upsets last night.
OK!: There was a big trend with a lot of nude and white dresses this year, what are your thoughts on it? 
Article continues below advertisement
BG: I love that. My client Jenna Dewan-Tatum was in the nude-y metallic family last night. We also had Jessica Biel in that zone. I like that, I think the whole idea behind that is it's a great way when you hit the carpet that you'll glow and glisten and be as radiant as possible.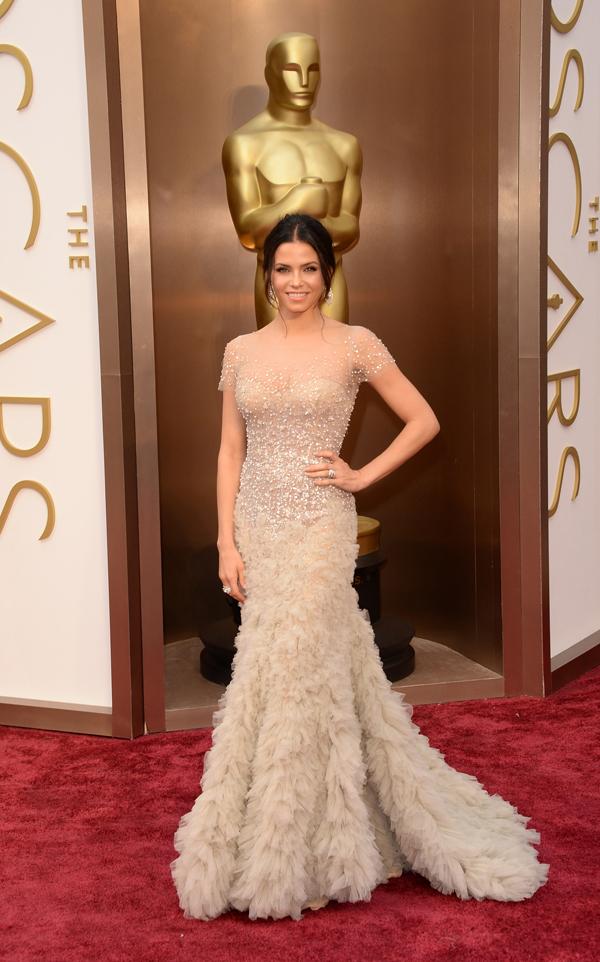 OK!: Jenna looked amazing, who else did you work with this year? 
BG: I did Laura Dern and I also did Rashida Jones for the Vanity Fair party last night.
OK!: How about the men of the carpet, a lot of people were talking about Jared Leto's perfect hair and his red bow tie.
BG: I thought the men did a great job last night, there were a lot of white jackets, somehow white jackets became a big trend this season. I thought Brad Pitt looked incredible. I think I might be trying to replicate his haircut soon. I just thought that he looked so beautiful and handsome. But the men really brought it last night as well. Jared, my goodness. He's given gay men and straight men alike major hair envy.
Article continues below advertisement
OK!: And women!
BG: Yeah and women for sure!
OK! News: Don't worry Leo! Here are 9 reasons you're still the best
OK!: Walk us through what your day was like yesterday. Are you just hanging out or are you running around putting final touches on looks? 
BG: My day started pretty early yesterday. Laura was my first client and I started working with her at about 11 in the morning and we went over everything for the day, we picked the nail color and discussed hair and makeup. We also set the jewelry and put all the finishing touches on her look.
When I was finished with her around 2 p.m. I went to Jenna's house and she was already in hair and makeup as we had discussed it before. So we tried on jewelry and did a reset on both the Oscars and Vanity Fair dresses and  got her set up for the entire evening. That took me until about 4, 4:15 and then I had to run around and get, we had fit Rashida the night before for the Vanity Fair party so I had to go pick up her gown and pull jewelry and then I had about an hour and a half for myself to eat and get ready.  Then I went back to her house to get her dressed and we went to the Vanity Fair party around 10:30. I've never been to the party before so it was a really fun experience.
Article continues below advertisement
https://instagram.com/p/lFa-G-S3DJ/
OK!: Do you get to sit down and actually see much of the show? 
BG: I found since I started styling that the show very rarely happens for me. I got to see the Idina Menzel perform "Let It Go" which is what I was really waiting for because I'm obsessed with the movie Frozen. I thought Ellen was hysterical, she was so funny.
OK! News: Which celebs actually ate the pizza Ellen handed out? 
OK!: You're no stranger to a selfie, did you see the big celebrity selfie that happened? 
BG: I did. It swept the universe. Isn't it the most retweeted photo of all time? I guess if you want more followers, if you can get that gang together, then you're golden.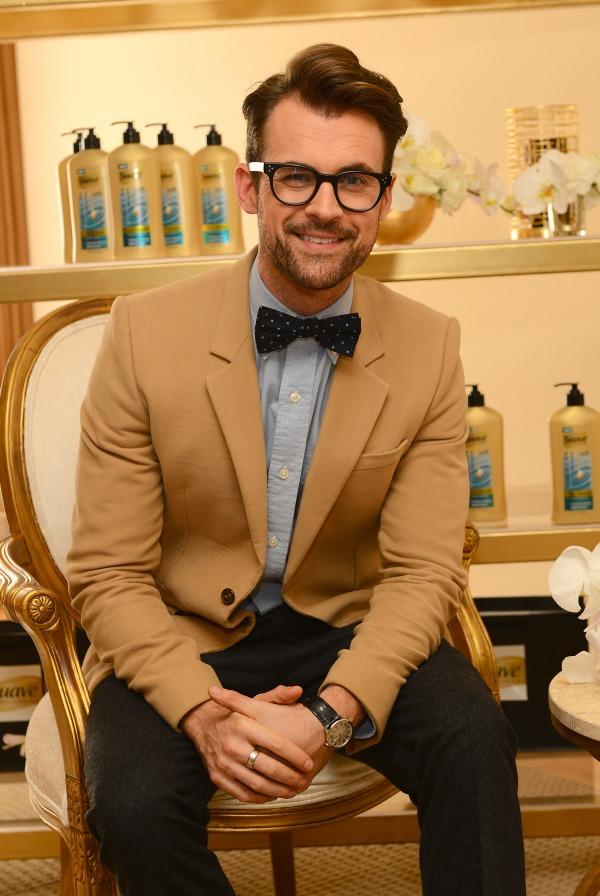 OK!: Now after watching all this glamour last night, what are some ways to get a red carpet look at home? 
BG: When people ask how they can get a red carpet look at home, and what we saw last night with so many soft colors and lots of skin showing, I recommend using the new Suave Professionals Moroccan Infusion Body Care for beautiful silky skin. It's a way to take style to the next level, on or off the red carpet. It's a really great product, my favorite is the new Suave Professionals Moroccan Infusions Dry Body Oil Spray which has a non-greasy formula that absorbs instantly into the skin. It's a great way when you're showing some skin to add lots of moisturizer and a glistening radiant glow. It's light-weight and has a really nice fragrance if you want to get that Oscars red carpet glow.
Which look will you be talking about all week long? What celeb do you want to see Brad work with next? Tell us in the comments below or on Twitter @OKMagazine.