STYLE
Who Wore It Better? Emmy Rossum Vs. Bella Thorne?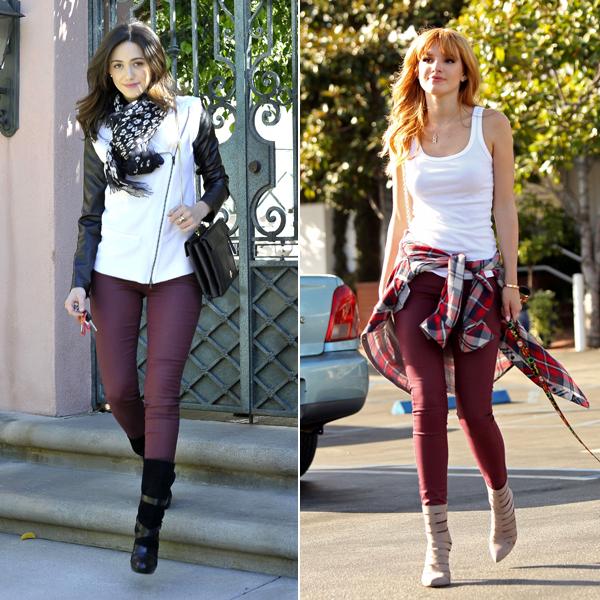 More accessible than leather with a stretch that will get you moving, coated skinnies in rich colors are a seasonal staple that are just as essential as that designer bag. Take it from the celebs! The gorgeous Emmy Rossum and standout style princess Bella Thorne both reached for a pair of Old Navy's Rockstar Coated Skinnies this fall, demonstrating what these burgundy treasures can do. For one, they can make you feel much better about your budget. They retail for less than $37!
Article continues below advertisement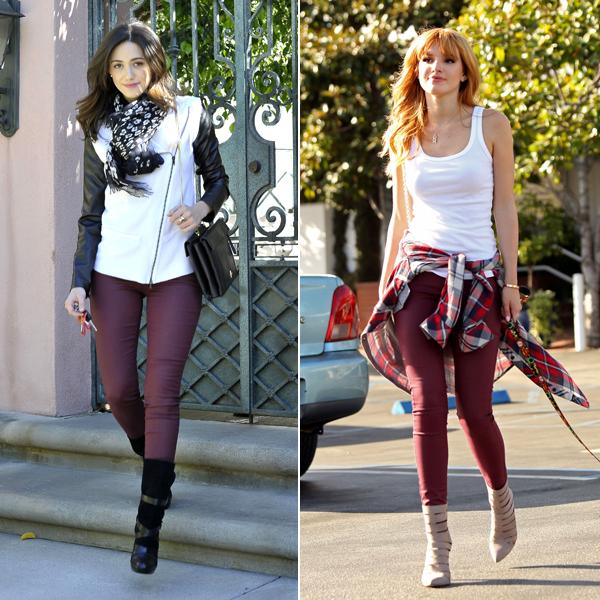 Photos: 8 Sweater Styles We're Loving Right Now
Watch: Fergie's Super Slim Post Baby Bod
Putting their own spin on the skin-tight slacks, each gal obviously styled them differently, resulting in a completely unique early fall feel. Emmy Rossum released an edgy yet clean-cut aura of an unstoppable motorcycle chick. Her black and white leather jacket combined with the texture of the coated skinnies really amps things up. But Bella may have had more of a bohemian mindset when she put this winning combo together. Her mid-calf boots, white tank, and flannel button-up transformed these pants into the perfect "going to get coffee" kind of item.
Whose style fits you best? Who wore them better? Take our poll below and tweet @OKMagazine.
polldaddy poll=7475243