VIDEOS
4 Semi-Scandalous Things Miley Cyrus Said to Matt Lauer on Today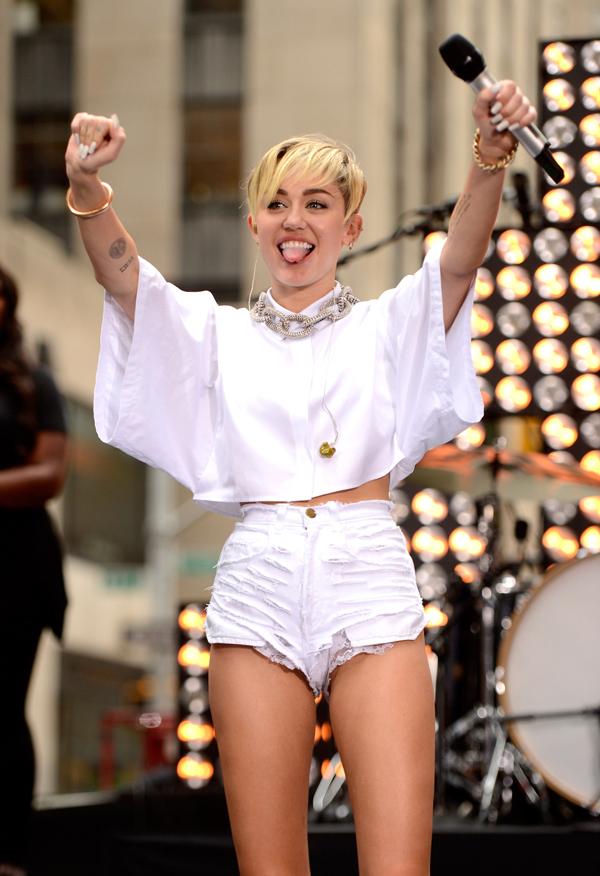 Visit NBCNews.com for breaking news, world news, and news about the economy
Less than 48 hours after she finished up her hosting gig on Saturday Night Live, Miley Cyrus was off to Rockefeller Plaza in NYC to chat with Matt Lauer on The Today Show. And sure, some may think this interview is a bit awkward to watch since Matt kinda keeps putting Miley down and Miley keeps defending herself, but let's not forget these gems that Miley said that are uncomfortably hilarious. Like:
Article continues below advertisement
Poll: Vote for Miley's Duet with Britney As Best Song of the Week
1. When Matt brought up the scandalous Terry Richardson pics and her nudity in the "Wrecking Ball" music video, Miley retorted with, "Now everytime you get on a wreckng ball, you just want to get naked and be on top of it!"
2. When asked if Miley's sexual side is a phase, Miley responded with "Well, I heard when you turn 40 you start to go a little less sexual. I heard that's when people don't have sex anymore." Miley then guessed that Matt was 40 (he's 55), and then she said "Oh well then you're really definitely not sexual..." Ouch.
3. When asked what her five year plan was, Miley said she is focusing on the present and her 2014 tour. "My plan is focusing on right now and continuing what I'm doing. I'm the happiest I've ever been in my whole life." Is that another jab at Hannah Montana? Thinkin' yes.
Photos: 14 Sexual Miley Cyrus Poses
4. When Matt reiterated that Miley is getting a lot of attention lately, she responded by saying "I know who I am. I know I'm an artist and I've put all this time and effort into my record. I said something before where for me the most important thing is being a really good person, and that doesn't depend on what you do on-stage." This actually isn't uncomfortably hilarious. It's just genuine and we admire Miley for saying this.