NEWS
New Tunes Tues: 5 Songs To Know This Week from Miley Cyrus & Britney Spears (!!!), Christina Aguilera and More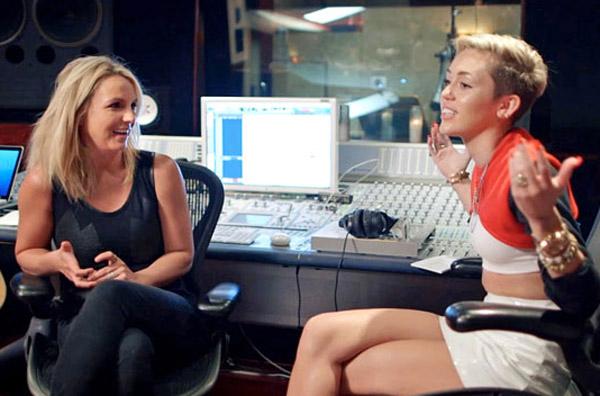 Welcome to New Tunes Tues, where I tell you what newly released songs/albums/music videos etc require your attention immediately. Yes, we're all anxiously awaiting the music video release of Britney Spears' "Work Bitch" tonight, but until then, here's some new tracks from Katy Perry, Christina Aguilera and oh yeah, the just-leaked MIley/Britney collab to hold you over:
Katy Perry, "Walking on Air." I've been playing Katy's latest track off Prism over and over again since it came out early Monday am, mainly because it brings me back to 1992 and reminds me of "Good Vibrations." Also, apparently this song is about her breakup with Russell Brand so that makes it even more worth a listen:
Article continues below advertisement
youtube=https://www.youtube.com/watch?v=t4D5egXVqSg&w=480&h=360
Photos: 14 Suggestive Poses from Miley Cyrus' New Music Video
Miley Cyrus ft. Britney Spears, "SMS Bangerz." Miley's entire album, Bangerz, is now streaming online a week before its official release date, and of course the track people are most talking about is her collaboration with Britney Spears. "SMS Bangerz" definitely sounds more like a Britney song than it does a Miley, but EW.com calls it a "merry rap-off" which is the most perfect way to describe it. Like?
Watch: A Play-by-Play of Drake's New Music Video
Christina Aguilera, "We Remain." The tracklisting for the Catching Fire soundtrack came out yesterday, and with it came the release of Christina's song on the album. "We Remain" is a ballad which is a departure from Xtina's most recent singles, but this is The Hunger Games we're talking about here. This song fits the movie franchise perfectly.
Lady Antebellum, "Compass." Even if you don't love country music, you'll love this country band's new single. Promise. It's like Phillip Phillips meets The Lumineers or something? I don't even know. Listen and then feel free to share your thoughts:
Article continues below advertisement
youtube=https://www.youtube.com/watch?v=bTaF6OXDrHg&w=480&h=360
Poll: Vote for The Best Pop Song of Last Week
Skylar Grey ft. Big Sean and Travis Barker. "Back from the Dead." I've loved Skylar Grey ever since she did "Moment 4 Life" with Eminem. I love her new song too, featuring Travis Barker and a rap verse from Naya Rivera's beau Big Sean, almost as much as I love the Eminem one. Also, the video? So artsy!
youtube=https://www.youtube.com/watch?v=XjqRpC0EglA&w=480&h=360
Photos: 8 Concerts To Go To This Fall
What's your favorite song of the week? Any we missed? Vote for your favorite song below and tweet your pick @OKMagazine!
polldaddy poll=7440943