VIDEOS
Battle of the Boy Bands! Vote for The Backstreet Boys or Jonas Brothers As The Best New Single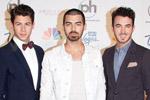 Tuesdays miiiiight be the best day of the week because that's when new music comes out. Woohoo! And this Tuesday is Boy Band central, where iTunes gets blessed with new tunes from The Backstreet Boys and the Jonas Brothers. So which new jam is better? Let us talk it out.
Article continues below advertisement
And then, there's BSB with the release of "In a World Like This." The song is kinda different from the Backstreet we're used to but we're kind of into it. Can't wait for their new album to come out on July 30!