VIDEOS
Bringing Up Bates Preview: Gil and Kelly Bates Reveal That They're "Hoping" To Have Another Use For Her Maternity Clothes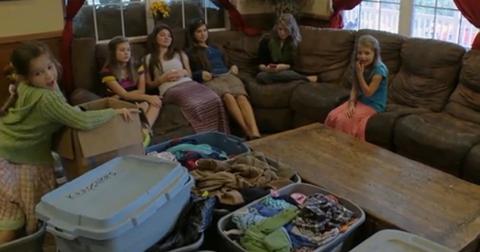 Feb. 3 2015, Published 6:45 p.m. ET
View all comments
We've seen the Bates family go shopping for clothes, and on this week's Bringing Up Bates, they do the opposite—they're changing over the clothes for the season and getting rid of a ton of it. But when you have 19 children, cleaning out your closet every year isn't as easy as stuffing it all into a garbage bag. The Bates family has quite the system on how to organize their clothes, sorting the piles by gender and size.
Article continues below advertisement
PHOTOS: Which Bates Sibling Is The Next One To Get Married?
And the best part? Gil even sifts through Kelly's maternity clothing and reveals that he wants her to be able to wear it again! "We're hoping to use this bucket right here, Kelly maternity." Exciting!
So check out the Bates as they begin their "organized chaos" of spring cleaning in the clip above, and tune into the new episode Thursday at 9pm on UP.