VIDEOS
Celebs Support Rare Cancer Research at Cycle for Survival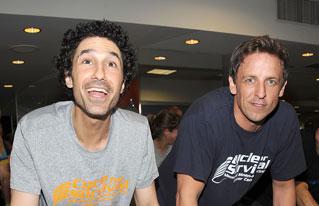 This past weekend, the Big Apple was filled with celebs biking up for more reasons then their own personal fitness.
Seth Meyers, Arianna Huffington, Olympic gymnast Nastia Liukin and Top Chef host Padma Lakshmi were a few of the many celebrity participants that were spinning to support rare cancer research at the Cycle for Survival event.
Watch: Michelle Obama Google Hangout
Co-founder David Linn says he started the event in 2007 after his wife Jen was diagnosed with a rare kind cancer. David says that when all the rare cancers are combined, they make up 50% of all the cancer cases.
Article continues below advertisement