VIDEOS
Julianne Hough's Gorgeous 'Lone Ranger' Premiere Look—Get The Product Scoop!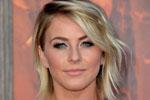 Julianne Hough is one of those girls who probably wakes up looking fresh-faced and gorgeous (no fair but I'm not going to hate—good for you, JH!), but when she readies herself for the red carpet, her glam squad really kicks up her wow factor. Makeup artist Spencer Barnes created Julianne's look for The Lone Ranger red carpet premiere at Disney's California Adventure on Saturday, using a slew of great Merle Normal items. If you're a product junkie like myself, you're probably wondering what you should try getting your hands on to recreate the actress's flawless face at home. Look no further, Spencer shares the Merle Norman goods:
Article continues below advertisement
• Merle Norman Anti-Redness Cream
Perfect for prepping skin before applying makeup, this lightweight cream soothes skin and shows redness the door. Fragrance-free and oil-free, even those with sensitive skin can benefit from natural extracts and anti-inflammatory ingredients like Sea Whip and a neutralizing light green tint to give your skin an instant refresher.
• Merle Norman Aqua Balance Makeup
You've gotta love a foundation that's weightless, so you don't feel like you're wearing a pound of makeup on your face. It's specially formulated to control oil where there's shine and moisturize your dry patches to balance your look.
• Merle Norman Foundation Primer
Article continues below advertisement
You need a great canvas to create a masterpiece, right? This foundation primer helps to ensure a flawless makeup application by creating a smooth, even surface with polymers to fill in those pesky lines and wrinkles.
• Merle Norman Pro Pen Eyeliner
Spencer makes Julianne's baby blues with this liquid liner that can create both thick and thin lines with ease. For a thicker line, simply press harder. It's water-resistant and long-wearing—ideal for when you'll be on the go all day long!
What are your makeup must-haves for a big event? Share your favorites in the comments below or tweet @OKMagazine.