VIDEOS
Loving Hermès and Chanel? Learn About Discounted Designer Gems From the 'Resale Royalty' Girls!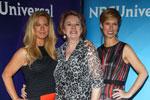 You can't say Hermès and Chanel in the same sentence and expect us to contain our composure, especially if we're talking about discounted designer goodies. The ladies of Resale Royalty joined OK! TV and explained the background behind their new consignment store style segment. Oh, it's a stylish one.
OK! News: The Resale Royalty Girls Teach You How to Score Awesome Thrifting Finds
Sue McCarthy owns The Women's Closet Exchange, a women's store that sells gently-used high-end merchandise. And when we say high-end, we mean fashion's best of the best. Sue's two daughters, Diane Ford and Laura Maurice, help her run the show with their styling and marketing backgrounds. They actually have a staff of 28, so it's kind of a big deal. So big, in fact, that they gals landed their own show on the Style Network. We all have that "special find" story. These ladies just have a few more.
Article continues below advertisement