VIDEOS
Teen Mom OG Reunion Exclusive Preview: Farrah's Mom Debra Sets The Record Straight About Farrah's Sex Tape (And Feud With Maci)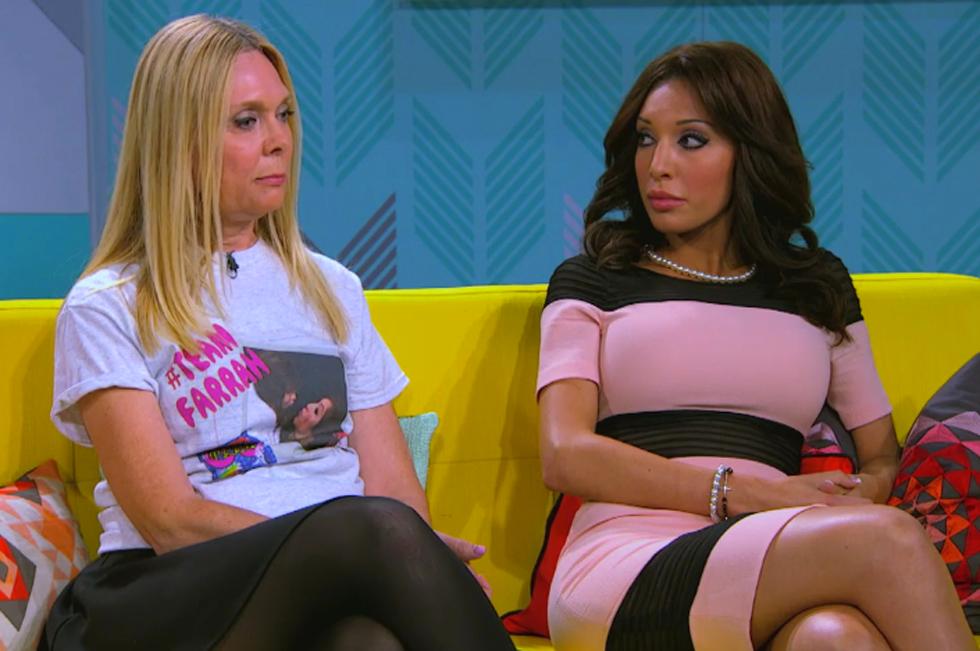 As you'll see on part 2 of the Teen Mom OG reunion, airing tonight, Farrah Abraham mostly keeps her cool during her segment and doesn't really bash her co-stars like she's done throughout much of the rest of the season. But perhaps that's because this time, Farrah has her mom to do it for her...
WATCH: Farrah's Dad Reveals Why She Calls Him Michael on The Teen Mom OG Reunion
In this exclusive clip from the second half of the reunion, Farrah's mom Debra Danielsen comes on stage to "set the record straight" about her daughter. Dressed in a Team Farrah tee shirt and with cheerleader's pom poms in hand, Debra tells Dr. Drew how hard it was for her to watch Farrah's co-star Maci Bookout badmouthing Farrah throughout the course of the season. Debra even brings up Tyler Baltierra who, during his earlier segment with Catelynn Lowell, called Farrah "desperate for a buck." Debra explains also how hard it was for her to watch Farrah get taken advantage of in terms of her sex tape, and explains how much it pains her that everyone (both co-stars and fans) has judged her for it.
Article continues below advertisement
PHOTOS: Amber Portwood Walks Off Stage in Part 1 of the Teen Mom OG Reunion
"People should be saying Farrah, you took that horrible crisis, flipped it around and you were able to make something out of it to where you could actually take care of you and your child," Debra says of how people should react to Farrah's sex tape. "I'm tired of hearing the word, 'your daughter is a porn star.'"
MORE ON:
Teen Mom Exclusive Clip
Watch the exclusive clip above to see what else Debra tries to set the record straight on, and tune in to see Farrah and her parents as well as Catelynn, Tyler, Teresa and Nova on the second part of the Teen Mom OG reunion tonight at 10pm on MTV!
PHOTOS: The Teen Mom OG Cast Congratulates Maci on Baby Jayde
Are you Team Farrah after hearing Debra's side of the story? Do you better understand where Farrah and her family are coming from with the whole sex tape scandal? Tweet us @OKMagazine.