VIDEOS
Watch: Idina Menzel Sings "Let It Go" with Jimmy Fallon—And Classroom Instruments!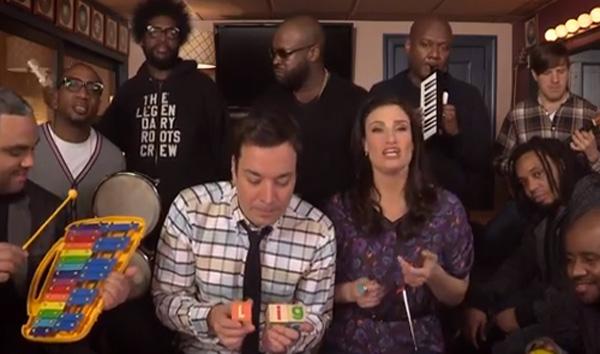 Oscars flub? What Oscar flub? Idina Menzel is bouncing back from John Travolta butchering her name at the Oscars by continuing to be her adorable, talented self. She stopped by the Tonight Show to perform her song, "Let It Go" on classroom instruments with Jimmy Fallon.
OK! News: Read our live blog of the 2014 Oscars!
youtube=https://www.youtube.com/watch?v=17QQcK4l6Yw&w=560&h=315
Idina, Jimmy, and the Roots played the newly minted Oscar winner on kazoos, triangles, xylophones, and chimes. Idina, being one of the most gifted women on the planet, manages to sound even better acoustic than she did at the Oscars. It's also adorable to watch Jimmy Fallon try his hardest not to sing along with all the words. Wonder if he sings this jam to his daughter Winnie?
Article continues below advertisement
Photos: See our picks for best-dressed at the Oscars.
Idina sang "Let It Go" at the 2014 Oscars on Sunday, but the segment will best be remembered for the awkward way John Travolta presented her: by referring to her as "Adele Dazeem." Did he not know her name, or did he read it incorrectly, or what? The mystery has yet to be solved, but it provided an excellent Oscar meme.
What do you think of Idina's performance on the Tonight Show? How do you think Jimmy is doing so far? What do you think was up with John Travolta's flub? Tell us in the comments below or tweet us @OKMagazine.