VIDEOS
What We Learned From Last Night's 'Real Housewives of Orange County'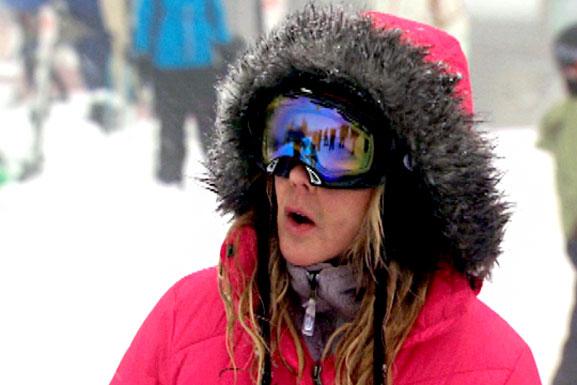 If I took a shot every time someone on this episode said "Canada" I would be passed out on the floor. Lydia has planned an "elegant" trip to her native land of Canada where they'll be bringing their drama to the bunny slope in Whistler, British Columbia. The OC women are treating this visit to our neighbors to the north as though they are going to a land where unicorns roam free and leprechauns sit at the end of every rainbow with a pot of gold. It's ridic, but I digress…
Article continues below advertisement
OK! News: 4 Ways Seeing NKOTB In Concert Has Changed Over Two Decades
The episode opens with Alexis gifting Lydia a Swarovski-embellished bible to prepare for their trip abroad, while Tamra and Heather shop to arm themselves with cold weather gear. We're also still talking about Malibu Country. These women have spent more time talking about this sitcom than the canceled series spent on the air. Tamra shares with Heather the news Gretchen delivered by way of Lauri about Vicki having a threesome. Phew. This is not going to end well.
Cut to everyone packing for the getaway. Gretchen is packing 1980s snowsuits, Alexis has winter gloves with fake wedding rings attached and Vicki is toting sparkly club wear. I don't know what to make of any of this.
Watch: Kellie Pickler Unveils New Music Video With Derek Hough
On the van ride up to Whistler we have more Malibu Country talk. Gretchen tries to defend herself against the implication that she lied about also being offered a role on the show, then Alexis jumps in and says they called her, too. Were there even enough episodes of this series to warrant this many guest stars? Oy!
MORE ON:
Real Housewives of Orange County
Article continues below advertisement
Moving on…we meet Lydia's hottie uncle Greg. That's really all there is to say about that. He's way too normal to delve any deeper.
Tamra is brooding over whether or not she should tell Vicki about the rumors Lauri told Gretchen. What better time to release the kraken than on the slopes, I say? Meanwhile Lauri is upset that she told Gretchen a "secret" about Vicki that she then relayed to Tamra. Ummm…you told this "secret" in front of the RHOOC cameras—did you really think this was going to stay under wraps?
OK! News: Jacqueline Laurita Spills On Her New Blog, Makeup and More!
Understandably Vicki freaks out when Tamra tells her the gossip. She confronts Gretchen and Lauri. Lauri defends everything she's told Gretchen, except for the threesome comment, even though it truly was implied. Lauri clearly has an axe to grind but I like that someone is finally going head-to-head with Vicki. It's time for that woman's reign of terror to end on this show.
Article continues below advertisement
These fighting scenes with the women on the slopes are making me chuckle because for some reason it reminds me of scenes from Better Off Dead when John Cusack's character is attempting to ski the K-12. Maybe I'm just going to the happy place in my head because Vicki's screaming is getting to me.
Next week more high altitude drama ensues and I sincerely hope we hear more about Malibu Country. 'Til next week…
Which OC lady do you side with this week? Tell me in the comments below or tweet @OKMagazine.