Archive
Angie Falls Into Johnny's Arms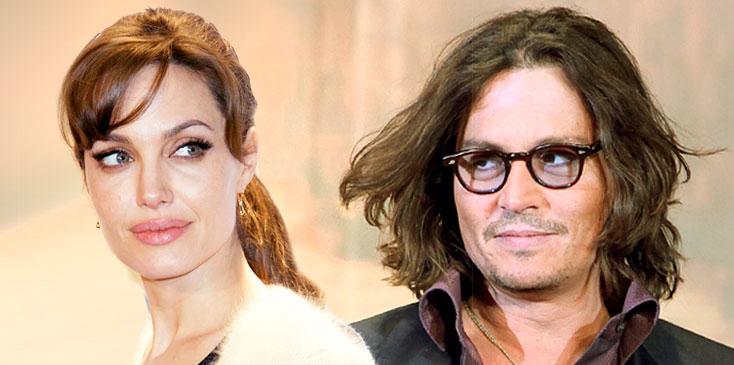 COLD-HEARTED Angelina Jolie not only punted Brad Pitt to the curb — she's NOW found comfort in the arms of one of his biggest rivals — Johnny Depp!
In the ultimate kick to Brad's 32-inch-by-32-inch pants, Johnny has been such a constant fixture at his family's Malibu home, Brad's kids are now calling the just-divorced bad boy, "Papa Johnny!"
"Brad will go berserk when he finds out that Angie's replaced him with Johnny!" tattled an insider.
Article continues below advertisement
Article continues below advertisement
Brad's supposedly "anonymous" child abuse allegations against Brad were dismissed after exhaustive interviews between social workers and all six of the couple's children.
But tatted-up Johnny was never formally cleared of Amber's allegations of "emotional, verbal and physical abuse!"
Angie Falls Into Johnny's Arms
Despite that, Angie welcomed Johnny's calls when he reached out after her split from Brad, sources said.
"Long phone calls turned into coffee meetings, which gave way to romantic dinners," spilled an insider.
Johnny has been making regular under-the-radar visits to Angie's ultra-private Hidden Hills, Calif., compound, and insiders said they're doing more than just consoling each other!
"The chemistry between Angie and Johnny is off the charts," blabbed one source.
In fact, the "Alice in Wonderland" star has become such a fixture that "he's a bigger part of her kids' lives than Brad is," an insider said.
Article continues below advertisement
"They call him 'Papa Johnny,' and Johnny seems to be thriving in the presence of the young ones."
Now the children will be seeing even MORE of Johnny!
"Angie is so comfortable with the current arrangement that she even invited Johnny to move in some of his clothes and other stuff. She's even set him up in one of the bedrooms!" our spy reported.
If he does, insiders say that Brad will be furious and confirm his suspicions that there was an undeniable attraction between Angie and Johnny for years.
"Angie can be very strategic," said an insider.
"She knows Brad's gonna blow — because she's writing a script she wants Johnny to star in. And it's about a violent love triangle!"