Archive
Inside This Week's OK! Magazine: Mila and Ashton Prep For Baby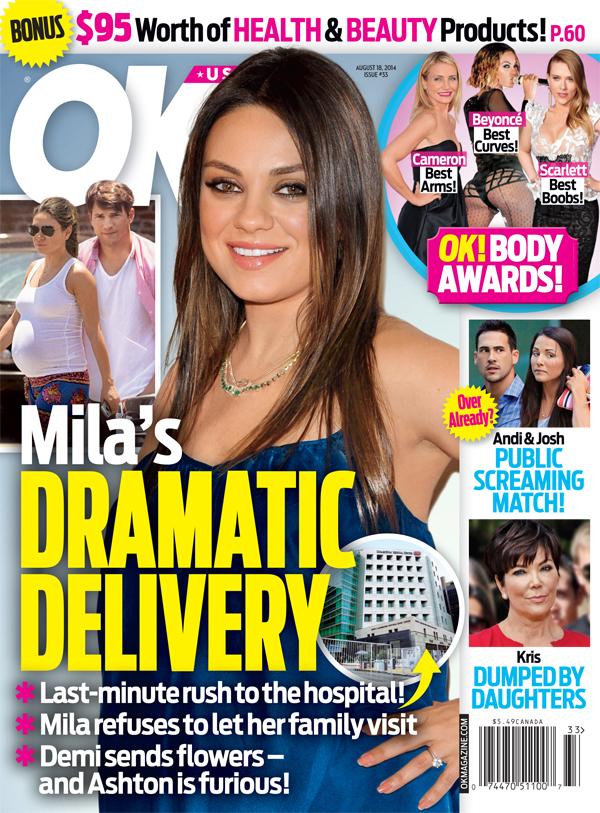 In this week's issue of OK! Magazine, we've learned where Mila Kunis & Ashton Kutcher will give birth, who'll be in the room (and who's been banned) and all of the last-minute drama surrounding the big day.
OK! News: Read OK!'s Cover Story RIGHT HERE!
Here's what else you can expect this week:
Introducing OK! Body Awards! We've chosen the most enviable bodies in Hollywood—and revealed just how they got that way.
Is Kris Jenner having trouble keeping up with the Kardashians? Find out why all of her daughters have dumped their momager, leaving her sad and lonely over the last few weeks.
The ravishing Megan Fox talks about her latest role in Teenage Mutant Ninja Turtles, her post-baby body, and why she wants to remove her tattoos.
Plus, a look at Miley Cyrus's bizarre new arts and crafts habit.
Make sure to pick up this week's issue of OK! MAgazine! Can't make it to the newsstand? Don't worry! You can download it right HERE. It's available on virtually every platform including iPad, Kindle, Nook, Google Play, Magster & Zinio. Even better, it costs ONLY $1.99 (that's 50% off the newsstand price!)
Article continues below advertisement
How do you like to read magazines? Do you have a digital subscription yet? Download HERE and tweet us @OKMagazine.