BABIES
Are Ellen & Portia Making Baby Plans?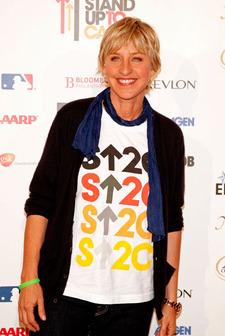 Ellen DeGeneres seems to be a just a teensy bit confused about the reason behind clothing commercials these days, as she jokes they're starting to make her think about having kids!
"When I see those print ads that have the babies in them for Gap, maybe that's cute that you have a little Gap knit sweater on the head, little Gap outfit," she tells AOL TV. "They advertise kids very well, those Gap ads. I don't even look at the clothes -- I just go, 'That's a cute baby, I'll take that one.' "
Article continues below advertisement
As for whether the TV funnywoman and her wife Portia de Rossi are seriously looking into having children, Ellen says that right now babies are not on the horizon.
"I think that is one of the things about not being able to just accidentally get pregnant and have a child," she explains. "You really, really have to want one, whether it's trying to figure out how you get pregnant or if you adopt."
Although she isn't ruling the idea of a family out, Ellen stresses that the decision to bring up a child isn't one to be made too hastily.
"I think that's even more of a reason that people that aren't able to have kids should be allowed to adopt because you have to really want a kid, and that's a big responsibility," she says. "So we are not taking it lightly. We would really think about it before we did it."