BABIES
Brooke Burke Names Her Son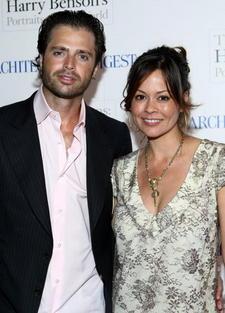 "Baby boy Charvet" no more!
Nearly a month after giving birth to her son, Brooke Burke and her fiancé David Charvet have finally settled on a name for the little fella: Shaya.
"You heard it here first! We have finally settled on a name," the model-turned-actress writes on her Baboosh blog. "We waited our whole lives for our son, and couldn't find the perfect fit. Poor guy! Now it's official. Shaya Charvet. We played with so many different names, and both loved Shaya the most. It means God's gift in Hebrew."
Article continues below advertisement
Still undecided though is Shaya's middle name, but the couple is slowly making progress.
"David came up with a middle name, Braven, which I really like. I want to give him part of my name too, so I am thinking about double Bs in the middle like my initials, Braven-Burke."
Shaya was and joins big sisters Neriah, 7, Sierra, 5, Brooke's daughters from her first marriage to plastic surgeon Dr. Garth Fisher, and Heaven Rain, her 1-year-old with David. Being the first boy will guarantee Shaya some extra atttention, the 36-year-old adds.
"He is the last Charvet to carry on David's family name. He is also the first boy in David's family, the little brother of three princesses, and my youngest. Ya think he is gonna be spoiled?!?! We haven't agreed on the middle name yet, but for all those who have been asking, Shaya Charvet it is!"