BABIES
Howard K. Stern: "Today is Extremely Difficult"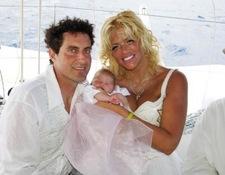 To mark the of the sudden and tragic death of his friend and partner Anna Nicole Smith, Howard K. Stern has released the following statement to Entertainment Tonight:
"Today is extremely difficult for those of us who were close to Anna Nicole, and we ask that the media please respect our privacy. In memory of Anna Nicole and her son Daniel, we have created the Anna Nicole and Daniel Wayne Smith Charitable Foundation. It will benefit charitable causes that Anna Nicole supported during her life: children, the elderly, and the treatment and cure of AIDS. Hopefully it will grow, help more people each year, and eventually be headed by her daughter Dannielynn. All donations through February 2008 will benefit a charity in the Bahamas for underprivileged and at risk youths that Anna Nicole wanted to help."
Article continues below advertisement
To make a donation in honor of Anna Nicole and Daniel please contact:
Anna Nicole and Daniel Wayne Smith Charitable Foundation
c/o Law Offices of Eric M. Sauerberg, P.A.
200 Village Square Crossing, Suite 102
Palm Beach Gardens , FL 33410
561-776-0330
For more on the life and death of Anna Nicole Smith, tune in to Entertainment Tonight on Fri., Feb. 8.