BABIES
Inside the Charlie & Denise Custody Battle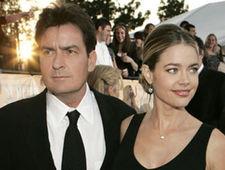 and 's custody fight wasn't the only messy ordeal going on this week. While the couple battled for their boys, and battled for their girls.
On Wednesday, Denise filed a request to revoke her ex-husband's overnight privileges with their daughters, Sam, 3, and Lola, 2, accusing Charlie of "inappropriate behavior ... and conduct," which includes his supposed "attraction to underage women and his sexual explicitness on the Internet, including revealing his private parts."
Article continues below advertisement
This is not the first time the actress has turned to the court. The 36-year-old made similar accusations last year that resulted in a temporary restraining order for Charlie. But the new filing may do more to hurt Denise's cause than to help her, according to Judge Lynn Toler of the MyNetworkTV program Decision House.
"If the second filing was prompted by new information or evidence, then it makes a great deal of difference. If not, multiple filings of the same thing can hurt your credibility with the court," she tells OK!.
The only new pieces of info are alleged e-mails from Charlie's fiancée apologizing for his actions — which Brooke maintains were edited to benefit Denise — and a declaration from her nanny, Diana Alvarez, supporting Denise's claims from last year that the actor exhibits a violent personality in front of their girls, "yelling… and routinely cursing."
But that's not enough to take Charlie down, Judge Toler says. Unless Denise has certifiable proof of the Two and a Half Men star directly abusing Sam and Lola, the most she can possibly get at this point is a court-appointed interview or investigation.
Article continues below advertisement
"The allegations being reported are vague and do not make any claims of inappropriate behavior directly towards or in front of the children, so if there is nothing more in the actual filing than what there is here I can't see significant ramifications."
Long denying all of his ex's allegations, Charlie, 42, again insists Denise's claims are baseless and "a day of legal reckoning for her is fast approaching" because "the truth will prevail. It always does."
Per court rule, the actor has the opportunity to respond and dispute Denise's statements, and the former Bond girl may have a mountain to climb anyway as "courts know that it is hard to prove a negative."
Also in line with court rules, Denise's filings were made public to "inspire accountability and confidence in the judicial system." For that reason, Judge Toler says most cases are released to the public and only under "certain circumstances" could the court seal records.
Article continues below advertisement
That means more allegations and denials will air out publically should the case play out in court. Each parent has come across confident and self-assured in their arguments, so what will happen when or if one is proved to be wrong?
"Whenever one is found misrepresenting themselves to a judge, either directly or indirectly, it hurts your credibility with the court and that can really come back to haunt you," Judge Toler warns.
Already questionable is Denise's assertion that Sam and Lola were upset to learn of their father's engagement through a celebrity news show, which raised eyebrows as many feel 2- and 3-year-olds are not old enough to understand the story and the meaning of an engagement through a TV program.
Tara Fields, Ph.D., licensed marriage and family therapist, also of Decision House, tells OK! that the cognitive development of toddlers isn't advanced enough to comprehend such an abstract concept. At that age, the most that could upset them is seeing their dad with another woman, but it is common knowledge that the girls have met and spent time with Brooke.
Article continues below advertisement
"Someone would have to explain it to them, what that means is they don't have the cognitive ability at these young ages unless someone has explained what that means either before, during or after seeing the segment," Dr. Fields says. "Living in L.A., they could be that sophisticated since they might be around others whose parents may be in the same situation. However, somebody, whether in the past or now, would have to explain what that means."
But the girls shouldn't have been watching the show in the first place. "Their viewing must be closely monitored and they shouldn't be watching adult content shows unless you are right there," Judge Toler advised.
Inappropriate television viewing aside, Sam and Lola have already been permanently scarred by the whole nightmare. By publically and continually coming to blows with each other, Denise and Charlie are not only insulting each other but their daughters too.
Article continues below advertisement
"The real test of a good parent is whether or not they make a commitment to themselves — and follow through with it — to never say a bad word about the other parent — even if they feel it — because when you put down a child's parent you put them down too, because they share their parents' DNA," Dr. Fields says.
Adds Judge Toler, the ex-couple should have tried to resolve the matter maturely and outside of court first. "Court should be a last — not first — resort. All fighting hurts the kids and that knowledge should dictate everything a parent does in this situation."