BABIES
Madonna's New Daughter Lands in London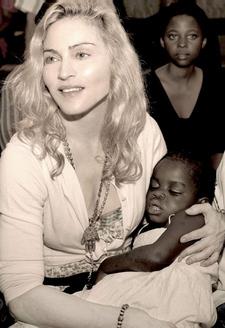 Madonna's new daughter was flown out of Malawi to London over the weekend. Three-year-old Chifundo "Mercy" James, left late on Friday, stopping in neighbouring South Africa, before reaching the UK.
The girl, who is the second child Madonna has adopted from Malawi, was reportedly accompanied on the plane by a nanny, a child nurse and a third aide.
Madonna, her daughter Lourdes, 12, and sons Rocco, eight, and three-year-old David Banda, flew into London from New York earlier that day.
Article continues below advertisement
But Mercy might not get to see much of her new mum over the next few weeks, as the singer embarks on a seven-week European tour on July 4.
A therapist has been enlisted to help Mercy adjust to her new life.
A source revealed: "Madonna realizes this is too much change and adjustment for such a young child."
"The Kabbalah leaders in New York have helped her choose a leading child therapist to work with Mercy and facilitate her transition into life Madonna-style."
Mercy's 18-year-old mother, Mwandidar, died when the girl was only one year old.