BABIES
Finally! Gigi Hadid Shows Off Her Gorgeous Baby Bump In Stunning New Photos: 'Cherishing This Time'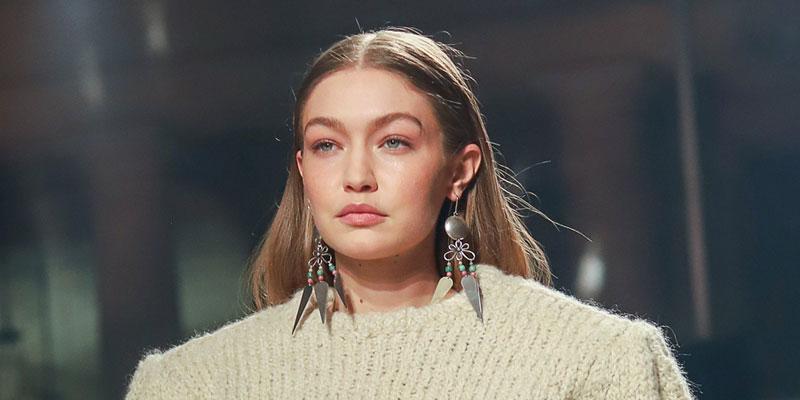 So beautiful! Gigi Hadid finally shared her gorgeous baby bump with her Instagram followers on August 26. The model, 25, uploaded several black-and-white photos of herself wearing flowy dresses while showing off her protruding stomach. "Growin an angel," she captioned the first photo. "7.26.20," she wrote on the second picture, which was taken by photographers Luigi & Iango.
"Cherishing this time. Appreciate all the love & well wishes," the blonde beauty — who is expecting her first baby with her boyfriend, Zayn Malik, in September 2020 — wrote. "Will never forget creating these special images with my friends @luigiandiango @gabriellak_j @erinparsonsmakeup thank you. I love you!"
Article continues below advertisement
In July, the California native — who has been in an off-again, on-again relationship with the former One Direction singer since 2015 — revealed why she hasn't been flaunting her stomach all over social media. "I think a lot of people are confused why I'm not sharing more, but like, I'm pregnant through a pandemic," she said. "Like, obviously my pregnancy is not the most important thing going on in the world."
Article continues below advertisement
YOLANDA HADID DOES FIRST RUNWAY SHOW IN NEARLY 35 YEARS WITH DAUGHTERS GIGI & BELLA
"That's a reason that I've felt that it's not really something that I need to share, apart from with my family and friends," she continued. "Obviously a lot of people have lost lives due to coronavirus — that was in the beginning of quarantine and still happening. And then we moved obviously into the re-emergence of the Black Lives Matter movement, and I thought our presence on social media should be used for that."
MORE ON:
celeb pregnancies
At the end of the day, Hadid made it clear that she is trying to be present and enjoy this exciting milestone in her life. "I have been taking a lot of pictures of my bump and sending it to friends and family and it's been really cute and exciting, and I'm trying to document it well because I've heard a lot of people say, 'Obviously, make sure you don't miss it,'" she revealed. "And I will be sharing stuff like that in the future."
Article continues below advertisement
16 CELEBRITIES WHO SWEAR THEY CAN COOK A MEAN MEAL
In April 2020, Hadid confirmed she was expecting baby No. 1 with Malik, 27, while speaking with Jimmy Fallon on The Tonight Show. "Obviously, we wish we could've announced it on our own terms, but we're very excited and happy and grateful for everyone's well-wishes and support," she gushed.
Since then, Hadid has been spending time on her farm in Pennsylvania. However, the couple recently relocated to New York City, where they will welcome their daughter into the world. "Things are going really smoothly and they are closer as a couple more than ever," an insider told E! News.
We can't wait to see more photos of their precious little girl once she arrives!