COUPLES
Tomi Lahren Denies She's Dating Jay Cutler After They Were Spotted Out In Nashville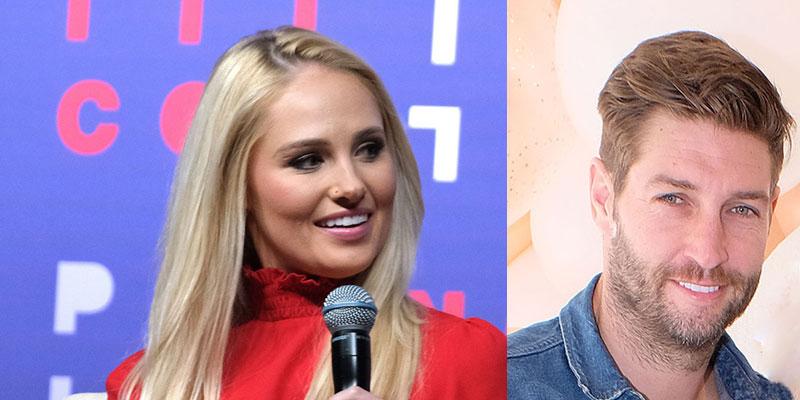 Tomi Lahren is putting a stop to the rumors that she's dating Jay Cutler after they were spotted together in Nashville. "I love it when the internet tells me who I'm dating. Good one," the 28-year-old wrote via Twitter on September 3.
The former athlete, 37, and the Fox Nation star fueled romance rumors when they were spotted out in Nashville, Tennessee. Cutler and Lahren "were enjoying a nice night out together at Winners Bar in Nashville on Friday," an eyewitness told E! News. "The two of them were having a lot of fun together at a table along with two other friends. Tomi and Jay were passing a bottle of tequila back and forth and taking shots together directly from the bottle. The two of them left together."
Article continues below advertisement
MTV'S 'LAGUNA BEACH' CAST: WHERE ARE THEY NOW: LAUREN CONRAD, KRISTIN CAVALLARI, STEPHEN COLLETTI AND MORE
However, a second source told the outlet that "they are just friends."
Shortly after the two made headlines, people quickly took to social media to talk about the potential couple. One person made fun of Cutler's football skills, writing, "Jay Cutler and Tomi Lahren are dating. She can rest easily that if he tries to make a pass at another woman, it won't get there. Geez, I crack myself up," while another echoed, "If Jay Cutler is actually dating Tomi Lahren I hope Kristin Cavallari gets back at him by dating Ben Shapiro." A third user added, "Jay Cutler is dating Tomi Lahren. Football season hasn't even started and Vandy is 0-1."
Cutler and Lahren are both recently single — the dad of three and the Laguna Beach alum called it quits in April after 10 years together, while Lahren and Brandon Fricke ended their engagement the same month.
KRISTIN CAVALLARI ADMITS SHE WAS A 'GREAT VILLAIN' ON 'LAGUNA BEACH'
Prior to her split, Lahren shared that she was moving down south to Nashville. "Well, I guess I have some work to do," she uploaded a photo of boxes. "Remind me to stop accumulating so much stuff. #TeamTomi #movingforward #lowkeyhoarder."
Article continues below advertisement
Meanwhile, Cavallari, 33, has been doing just fine without the Vanderbilt alum. In fact, she showed off two new tattoos in late August. The reality star shared a symbol that combines the first letters of her children's names — Camden, 8, Jaxon, 6, and Saylor, 4 — that was placed on her left forearm. The television personality also posted a snap of her new ink, writing, "Butterflies have been such a sign for me when going through difficult times."