COUPLES
Mama June And Geno Doak Prepare For Plastic Surgery In Beverly Hills, Nearly Seven Months Sober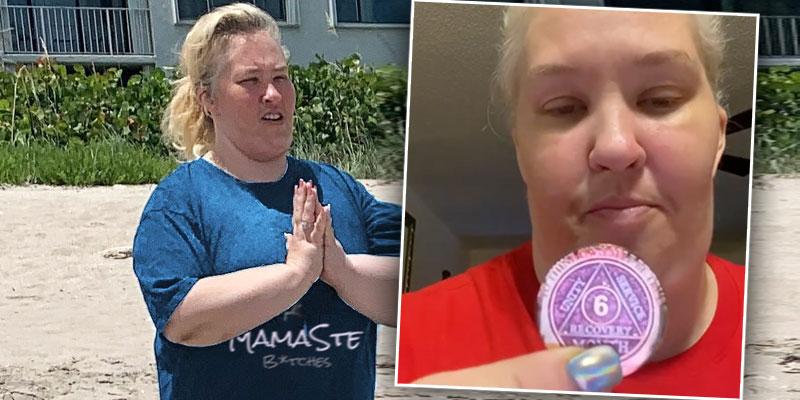 Sober and soon-to-be slim!
As Mama June her boyfriend Geno Doak celebrate being seven months sober, the couple is heading to Beverly Hills for a plastic surgery makeovers.
According to DailyMail.com, the 41-year-old reality star, who weighs 258 lbs, plans on getting liposuction on her torso, a tummy tuck and new veneers. Mama June is having the operation done by Dr. Michael K Obeng, and her teeth done by cosmetic dentist Dr. Tom Kalili.
Article continues below advertisement
Unfortunately her new transformation was short lived as she fell into addiction, admitting she spent up to $2,500 on meth and crack cocaine with Geno and losing the progress she made. The two were arrested last year on drug charges. Geno was also charged with domestic violence and harassment in the incident. Both pleaded not guilty to felony drug possession last fall and entered a rehab facility in Florida before moving to a sober living facility.
Article continues below advertisement
On her latest TV series Mama June: Family Crisis, Mama June said that her battle with drug addiction led her to liquidate their finances.
'The only reason I sold the house, we was dead f***ing broke,' said the mom-of-four. "Because you know at that point, we was doing quite a bit - I mean, it was a couple ounces a day,' June said. 'I lost who I was for a while, I do believe that. I do believe that the person I wanted to kill is in the past. I hated that person I was."
KNIFESTYLES OF THE RICH & FAMOUS? DID JENNIFER LOPEZ GET A FACELIFT—THIS IS WHAT THE DOCS SAY
Now clean and looking forward to her surgery, Mama June seems to be in a much better place. Earlier this month, she announced a milestone in her sobriety in a video posted on Instagram:
'Hey guys, real quick I just wanted to jump on here.," she said. "I know my birthday isn't until Monday, but I want to share this six-month blinged out chip that my manager sent me for my birthday.'
'It's probably the thing I'm proud of the most, because now me and Geno are over six months clean,' she continued. 'This is amazing, y'all, I'm so proud of this.'