COUPLES
P!nk Shares Candid Post About Marriage, Calling It 'Awful' *And* 'Wonderful'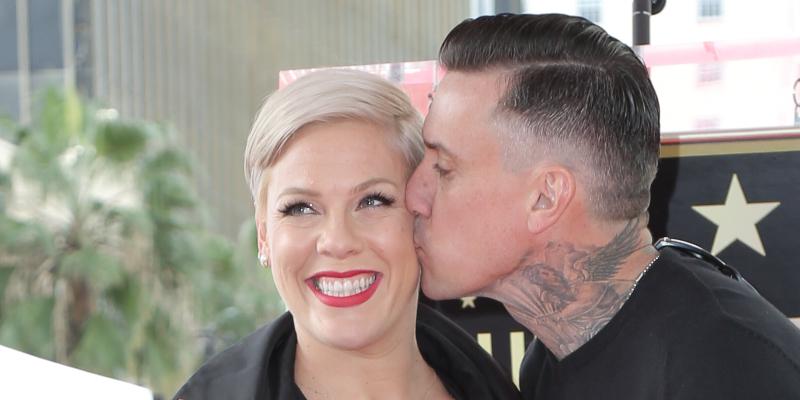 P!nk opened about the ups and downs of marriage in a candid Instagram post on Monday, September 14, of her and her husband, Carey Hart, looking absolutely adorable as they embraced.
"My friend @jbpitts2 took this photo of us. He's still my favorite sweet little dirtball. He and I have been at this a long time, and it is our relentless and stubborn idealism that keeps us together," the 41-year-old wrote in her caption. "Marriage is awful, wonderful, comfort and rage. It is boring, terrifying, and a total nail biter. It is loving another fallible creature while trying to love yourself."
Article continues below advertisement
PINK IS DONE POSTING ABOUT HER KIDS ON SOCIAL MEDIA — FIND OUT WHY!
The Grammy winner, whose real name is Alecia Beth Moore, referenced her passionate 14-year relationship with the 45-year-old BMX biker, writing: "It is a lifetime of coming back to the table. People laugh at us because we're either fighting or laughing. They roll their eyes when we talk about therapy."
While the 'So What' singer acknowledged their private marital battles, she ended her touching tribute sharing that the highs outweigh the lows. "I'll tell you what. It's worth it. All of it. Even when it isn't," P!nk wrote. "Therapy isn't for weak people or hippies or liberals. It's for broken people that want to be whole. It's for runaways that want a family. It's a lesson on how to sit down and listen. How to love yourself so that the other person can, too. I love you babe. I'm grateful we made it to this photo @hartluck."
EXPOSED SECRETS: HOLLYWOOD MAMAS REVEAL HOW THEY GO ABOUT PARENTHOOD
The couple met in 2001, after meeting at the Summer X Games, and tied the knot in Costa Rica in 2006. The duo shares daughter Willow, 9, and son Jameson, 3. Two years after getting married, the couple split; the 'Just Give Me a Reason' singer shared the news on her website at the time, explaining that they "love each other so so much," adding: "This breakup is not about cheating, anger, or fighting. I know it sounds like cliché bulls**t, but we are best friends, and we will continue to be."
Despite their time apart, the longtime lovers worked out their issues and welcomed their children in 2011 and 2016.
PINK REVEALS SHE SUFFERED A MISCARRIAGE AT 17 — 'YOU FEEL LIKE YOUR BODY HATES YOU'
The songstress had always been open about her relationship with Hart and explained in an interview with The Guardian in 2017 that there have been multiple ups and downs. "There are moments where I look at Hart and he is the most thoughtful, logical, constant … he's like a rock. He's a good man. He's a good dad. He's just the kind of dad I thought he'd be and then some," she said. "And then I'll look at him and go: I've never liked you. There's nothing I like about you. We have nothing in common. I don't like any of the s--t you like. I don't ever wanna see you again."