HEALTH
Wow! Rebel Wilson Reveals She Is 18 Pounds Away From 'Year Of Health' Weight Loss Goal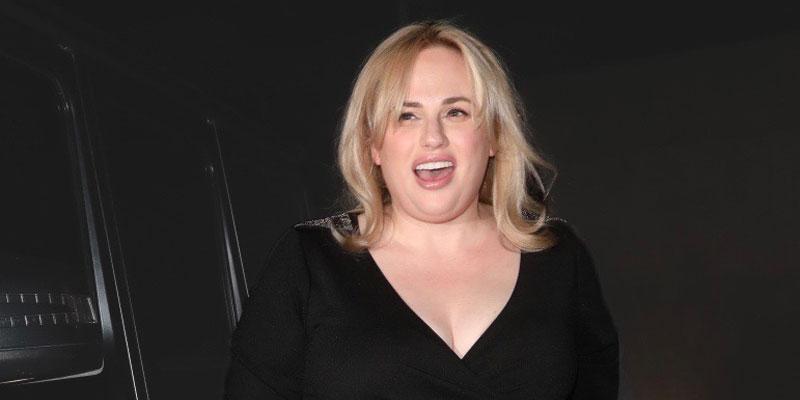 Wow! Rebel Wilson flaunted her weight loss progress on Friday, August 28, and revealed how she is only 18 pounds away from her goal. "Thanks for all the love so far on my 'Year of Health' journey — when I was reaching for the candies last night after dinner I thought to myself 'hmmmm...better not' and had a bottle of water instead," the 40-year-old captioned two photos of herself wearing a tight blue wrap dress. "8kg's to go until I hit my goal — hopefully I can do it by the end of the year x."
Article continues below advertisement
Earlier this year, the How to Be Single star revealed her 2020 goals, which included getting down to 165 pounds before 2021. Jono Castano, Wilson's personal trainer, gave insight into how the actress started her transformation.
"You can't out-train a poor diet and you can't let the weekend derail your fitness goals. It's a key mistake that a lot of people make. They get to the weekend and everything goes down the drain and then basically Monday to Friday, all the hard work that they did is gone," Castano revealed to Yahoo! Lifestyle.
REBEL WILSON FLAUNTS BRIGHT YELLOW DRESS ON HER INCREDIBLE 'YEAR OF HEALTH' TRANSFORMATION
"I'm all about balance, so with me, if you're going to have one drink, whatever it is, a chocolate, that's totally fine as long as it fits into your calorie count."
The Australia native started her health journey by sticking to the Mayr Method after she visited a detox and wellness center in Austria, a source told PEOPLE. Wilson got "amazing results" by following the plan — which focuses on not snacking, reducing gluten, and chewing your food in a certain way — and has kept up with it since.
Article continues below advertisement
"She exercises with a personal trainer up to six times a week, goes on walks and is trying to up her protein intake nutritionally," the insider shared. "I know she's also been working on conquering her emotional eating patterns of behavior."
The blonde beauty's weight loss journey started when she began filming Cats in 2019. "I lost eight pounds, shooting my number, in four days," she told Entertainment Tonight at the time. "One, because there's a lot of physicality ... but also, they heated up the set very high, to almost 100 Fahrenheit, so that we could never cool down."
REBEL WILSON APOLOGIZES TO MO'NIQUE & OTHERS OVER PLUS-SIZE ROM-COM CLAIMS
"These people are like, the best dancers in the whole world, so they can't cool their muscles down or they could get an injury and they'd be out of the film ... So they'd heat up the set like a sauna so we would never cool down, but made it pretty uncomfortable," she said.
Wilson has been keeping her fans updated on social media with photos of her progress over the past eight months. On July 20, she uploaded a photo of herself rocking a blue outfit. "Closer each day," she wrote.
Article continues below advertisement
Of course, fans immediately jumped to support her. One person wrote, "You look amazing," while another echoed, "You are an inspiration." Another used added, "Wow, girl. You are inspirational. Gonna get my health-on!!!"
"Her healthy journey is more about how it makes her feel than the physical benefits," a source explained. "She has more energy and more confidence, which you can see from her sexier Instagram shots. She's also having fun with new fashion and beauty looks."
#MOTIVATIONMONDAY: GET THE SCOOP ON HOW JESSICA SIMPSON LOST 70 POUNDS!
According to an insider, Wilson had been creating yearly "personal goals" for herself "for a while now," explaining that "2018 was the Year of Fun, and she went on amazing adventures and traveled a lot; 2019 was the Year of Love, and she went on fabulous dates; 2020 is the Year of Health. She has been very focused and dedicated."
In addition to working on her fitness and being health conscious, the Isn't It Romantic star also revealed another goal of hers is trying to get "one of my movies into production before the end of the year," adding, "both of these things are requiring a daily effort and there's constant setbacks — but I'm working hard x."
Keep up the great work, girl!