NEWS
OK! Exclusive: Malaysia Pargo Talks Being Friends With Her Ex-Husband Jannero Pargo, Her Feud With Jackie Christie On BBWLA And What Advice She'd Give Kourtney Kardashian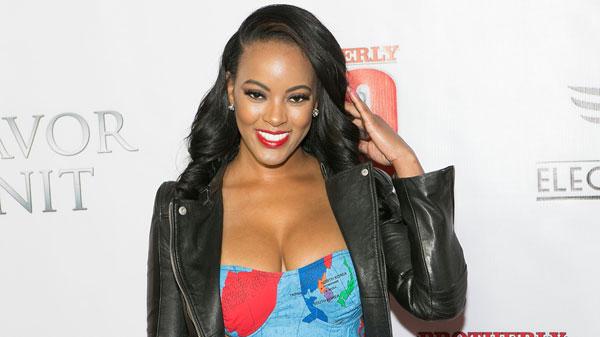 After eight years of marriage to her ex-husband, Jannero Pargo, Malaysia Pargo is entering Basketball Wives LA's fourth season living a new role she hasn't previously embodied on the show -- single and not necessarily ready to mingle!
PHOTOS: Porsha Williams Reveals Her New Footballer Boyfriend In PDA-Filled Instagram Photos — Find Out Who The RHOA Star Is Dating!
"I am single, and I'm enjoying single. Don't be offended guys. I do speak to a couple of guys. They are nice. But there's no one exclusive," Malaysia told OKMagazine.com in her delicately confident tone as she chatted from her new Los Angeles, California, home. "I'm like a little gopher. I pop my head in. And the moment I think that I'm ready, I realize that I'm not. So I'm taking my time."
Article continues below advertisement
But even though she's using caution when it comes to testing the dating waters again after divorcing Jannero in 2014, the beauty has more than enough to keep her busy. The single mom of three launched her Malaysia Pargo by Hedgecock Creed bedding line earlier this year, has been maxing out on bestie time with her No 1. lady and BBWLA castmate Brandi Maxiell and her feud with Jackie Christie is continuing to brew. (Yup, that BBWLA reunion show threat is still a problem!)
PHOTOS: Rihanna And Karim Benzema Are Still Dating, Pair Aren't Rushing Relationship Due To Their Busy Schedules: Report
However, after tackling what she has deemed one of the toughest years of her life -- which included her experiencing both the breakdown of her marriage and the death of her brother -- Malaysia is grateful that her recent life trials are helping her reconnect with her true self. And while speaking to OKMagazine.com, the beauty had tons to say about starting over after her divorce, why she's glad she was more "vulnerable" than ever during BBWLA's new season and why she's addicted to Starz's hit show Power.
Article continues below advertisement
OKMagazine.com: Ahead of this season of Basketball Wives LA, many were shocked to learn of your divorce from your ex-husband Jannero. Were you hesitant about talking about your split from him since you had previously shared many of the ups you two had in your relationship on the show's previous seasons?
Malaysia Pargo: I was nervous as hell. I was just as shocked as you guys. It took a lot out of me to actually file for divorce. I tried, and I tried and I tried different ways. I prayed. I fasted. I did everything I could possibly do before I called it quits. My marriage was so important to me and my friendship with my friend is and was so important to me. Did I want to let him go? I did not. But I had to. I had no choice.
And was I nervous to talk about it? Yes I was. I didn't want anyone to look at him negative. I didn't want to put my business out in the streets. But everyone knew I was married, and I was never going to lie. I'm known for keeping it one hundred, so I just needed to share that. It was kind of therapeutic to just kind of like get it out without getting it out. Like I'm still missing my ex. He's still my friend. And we still have three children, so I'm respecting him at all cost with it.
Article continues below advertisement
OKMagazine.com: And then in the first episode of the new season, we find out that Brandi is dealing with infidelity in her relationship as well.
Pargo: It's the scariest thing ever! I love my best friend. I'm the type of person when I say you're my friend, it takes a lot for you to be my friend. But if I say you're my friend, I'm going to ride or die for you. I want the best for my friend. I don't want her to do the same things or have the same hiccups that I had. So when I see certain things that were sort of happening to me that were happening to her, I have to correct them before it gets too crazy. And that's why I was leading her back home, like what are you doing here when she popped up on me. I'm like, what are you doing here? Go home. You need to be in Charlotte with your man. Don't leave no room for error. Like get there and get there fast.
OKMagazine.com: What were your conversations like when she revealed to you she was dealing with infidelity in her relationship?
Pargo: She and I are each other's diary. Before she even got on the show and before I was on the show, we would counsel each other on marriage. Our ups and downs and things that frustrate us. We'll pray together. We'll talk things out. She was a sounding board as well as I was hers. So I'm very aware of all the things that goes on with her and Jason Maxiell and she's very aware of the things that goes on with Jannero and I. But one thing about our relationship is that we don't judge the men. We make sure that we are here for support for each other and not to judge each other.
Article continues below advertisement
OKMagazine.com: What advice did you give her?
Pargo: I always start it off with a prayer before I even give her advice. I start and I pray about it that God might guide my tongue and let me only say things that are of him and not of me. My advice to her was to keep God first in every decision that she made and to realize that he's only man and man makes mistakes. There comes a fine line where some things that you can deal with and some things that you can't. And she knows what she can take and she can't take. And that's always my decision to her. Whenever you're losing your pride and your self-worth, then it's time for you to walk. And if you can deal with it, then you make it work.
OKMagazine.com: Where did you draw the line?
Pargo: When you start losing respect for your household. When the respect factor for your household is gone, then that was like my drawing board. You have to always put your kids and your wife first. Pretty much, that's where I had to draw the line.
OKMagazine.com: How is co-parenting with Jannero?
Pargo: Co-parenting is actually wonderful. We are getting to a point where we are actually gaining our friendship back. My ex-husband and I were friends first. We were friends for a whole year before we decided to be a boyfriend and girlfriend situation. We liked each other, and we went on dates. But I made sure there was a friend factor there before there was any romantic stuff. And for now, we are friends working on our friendship.
Article continues below advertisement
We're not best friends now. Like I said, he just called me and he has my son on the golf course now. He FaceTimed me and he was like, "Look at your son's swing. It's perfect." So we're laughing at my son swinging the golf ball and he looks like a little young Tiger! And my ex has now taken up a love of cooking. He didn't even know how to cook when we were together. And now all of a sudden he's chef. So I'm irritated about that! But whenever he makes little cute stuff for the kids, he takes pics and I kind of go back and forth with him. We have definitely moved mountains in the manner in which we talk to each other and communication as a whole is a lot better. We're able to have a couple of laughs together, and I love that!
OKMagazine.com: One interesting thing you mentioned in the first episode is that you left basically all of your material possession behind when you left your home you shared with your ex-husband. Did you consciously decide that you wanted a completely fresh start?
Pargo: I like nice things, but they don't consume me. I prayed about it. God told me to move out of the way and he said move now. And I just literally packed up seven days worth of clothes for my kids and I never looked back. I put my faith in God because he said  that he would provide for me and he did.  I regained it all and I'm fine. Thank you, Jesus! I started all over again and I'm still working at it. I'm not saying that I'm completely healed. I'm still working at being divorced from a man that I once called my king. I'm still working at just who Malaysia is all over again. So I'm very passionate about just speaking about it because I know a lot of women that are in a tough spot right now that want to leave but don't know how to leave because they feel like they probably won't be able to live that lifestyle or they won't be able to provide for their children. But I feel like I'm a living testimony that God will provide.
Article continues below advertisement
OKMagazine.com: Was there any possibility that you could be cordial with Jackie going into Season 4?
Pargo: I wish you could see my face right now because my face is all frowned up like, "No, child! No." For me, when I say I'm done I am so done. This damn Jackie Christie. She's like a little cat. She just keeps getting life and chance after chance to keep f—ing up shit. One minute she's so nice and sweet and understanding and fun to be around and the next minute she's like hell on wheels. So I just don't really know what it is about Jackie. You don't even have to do anything to her for her to start mess with you or start mess with somebody else about you. Most people, like with me, you have to do something to me for me to turn. With her, one minute you think you're going to walk up to your friend and then you meet a f—ing joke. I don't know. I really don't. I can't give you a straight answer on this Mrs. Christie.
OKMagazine.com: Her friend Mehgan has joined the season this as well, and things didn't start off too good for her after Draya's fashion show. Did you know of her before she joined the show?
Pargo: I've known of her because of the prior show that she did before. I hadn't known her as a person. But I've seen a couple of the episodes of her on Bad Girls Club. So at this point of Basketball Wives LA, I don't really know too much about her. I just know that we're catching her in a couple of white lies, which is off to a bad start. Which explains why she'll be friends with Jackie because Jackie likes to tell white lies.
Article continues below advertisement
OKMagazine.com: When you have someone new come on the show like that, are you immediately wary of the person?
Pargo: I tried not to judge her. I was like I'm going to let her go on and make her own mistakes. Just the fact that she kind of told a couple of little lies, I was like, "Oh s—t." Then i was like, "Okay. I'm going to just give her a chance to make her own bed and let her lie in it later." I'm not judging her straight off the bat. I'm letting her come in as she wants. Maybe there's a reason she said she didn't know Jackie. Maybe we made her a little nervous. I don't know. We'll see how it unfolds.
OKMagazine.com: What were your thoughts when you found out Shaunie and Tammi were making their move to Basketball Wives LA?
Pargo: I actually was excited. I really like Shaunie O'Neal and i really like Tammi Roman as well. So I was like that will be cool to work with them. I really didn't have a problem with it at all.
OKMagazine.com: Do you think your relationship was strengthened with the ladies with them joining this season?
Article continues below advertisement
Pargo: That's something that we've got to kind of wait to tell.
OKMagazine.com: What was something that you enjoyed about filming this season different from last season?
Pargo: This season was a little harder for me because I was living in my own turmoil. I was there but I wasn't there. I'm dealing with the loss of my brother, which hindered me a whole lot. It probably overshadowed losing my ex, because I didn't really actually lose him. I can still  pick up the phone and call him. Yes, I don't lay with him and wake up to him every morning. But need be, I could call him or see his face or something like that. Just losing my brother was really really hard and taking care of my mom. I enjoyed the times I did have with Brandi and the rest of the girls where I could actually laugh and get away from it for a moment. But i feel like it was really hard for me this season because I feel like I had to retell the horror story that I had to wake up to every morning. I felt like I can't believe this all happening to me at once.
OKMagazine.com: What is something fans will be surprised to see from you this season?
Pargo: My fans know that I'm very private. I keep my home life and my friend life separate. Through the years you guys really didn't hear much about my marriage because if we were going through something it was like we are adults. We handle it in our bedroom and we move on from it. The fact that I'm sharing and opening up about how I feel about my failed marriage. I'm always the person that's helping. And now this time I need help. I had to be vulnerable this season. I'm learning who I am all over again. I think there's some women out here that can identify with the setback and just figuring out who they are or trying to leave and don't know how to leave. I just thought that it was important because we are so quick to show the glory but we never show the sad parts or down parts. I wanted them to see that there's some ups and some down and no one is perfect.
Article continues below advertisement
OKMagazine.com: Kourtney Kardashian recently split with her longtime boyfriend Scott Disick. As a single mom with three kids, like yourself, what advice would you give her after she's coming out of a relationship that's been a decade long and starting fresh?
Pargo: I would just say for her to stay strong and put her children first. You're all they have. I know for my kids, when I'm sad, my kids feel it. So then they want to lay up under me and they want to make me feel better.  So I never want to put them in the position where they feel like they have to take care of me. So that's what kept me going. Taking them fun places, doing little activities with them. She seems to be a really good mom, so I know she has that taken care of. And the man, if he's meant to be, he'll come back. And if he's not, you'll find somebody else because she's beautiful.
OKMagazine.com: And you say you're keeping your own dating options open!
Pargo: Yes. And you know what, I've never had this. I met my ex when I was 19, so I'm kind of having fun. I don't have to cook or clean for nobody. I don't have to rub your feet. I don't have to tell you where I'm going. I don't have to say, "Hey baby. I'm going to Target for 15 minutes." I can just f—ing go to target and don't have to ask. l like that!
Article continues below advertisement
OKMagazine.com: Was there any resentment toward your ex?
Pargo: I would be lying if i told that in the beginning there wasn't any resentment. I was so irritated. I was like, "Oh my gosh. I wasted my entire life with you, stupid!" And now I'm so grown. I was very frustrated. But then as time wore and I realized, and the more I prayed about it and the more I became in tune with myself, I said it was a learning experience. And out of this learning experience I got three beautiful spirits. I just feel like that was just a chapter of my life and now I'm ready for the next chapter. Everyone knows me. I try to look at everything on the bright side or else I will be a bitter bitch and I don't want that. I just can't have that. I can't walk around with a negative cloud over my head.
OKMagazine.com: What was your response to the Supreme Court's decision on marriage equality?
Pargo: I was totally excited because I feel like no matter what, you can't tell someone who to love or how to love. And I'm a firm believer that we're all equal creatures. I just feel like if you love a man or you love a woman and you guys are in a committed relationship, why not be able to walk down the aisle. Who are we as people to say who you can and cannot marry.
Article continues below advertisement
OKMagazine.com: So when you are not watching yourself on TV on Basketball Wives LA, what are you tuning in to?
Pargo: Power! That is my show. Let me tell you how much of a fiend I am. I know what days it comes, but I still go check my DVR to see if another one just mysteriously popped up so I can watch it. I love it!
OKMagazine.com: Do you have a favorite character?
Pargo: I like Ghost. I think Ghost is just -- he's not a powerful man but he's an ambitious man. Like this is where I was before and this is where I want to go. He has it all figured out in his head, but he has people around him that are trying to pigeon-hole him. So I feel him like, "C'mon, Ghost. Do it." I'm rooting for him.
OKMagazine.com: What inspired your bedding line?
Pargo: Well you know that Malaysia is a little different. I was a gypsy. I pretty much lived all over the world, and I would have to make a house a home wherever we were. Like my whole job was to make sure that my husband was comfortable like nothing ever changed. And to make sure my kids were comfortable like nothing ever changed. We lived in Greece. We lived in Russia. And every where we went, I set up shop and all he had to do was just go bounce the ball. So just looking for comforters was the hardest part of the situation. When I moved to my new home in LA, I couldn't' find a comforter to save my life. So I just created my own!
OKMagazine.com: And do you think that it's fair for people to say that somebody's engagement may have been faked?
Pargo: I don't think it's fair. I don't know what crazy person in this world would engage theirself. I think that's crazy. Like no one would ever do that. I feel like in a relationship between a man and a woman, and they love each other and it don't work out -- I just don't think that anyone is crazy enough to engage theirself. That's weird.